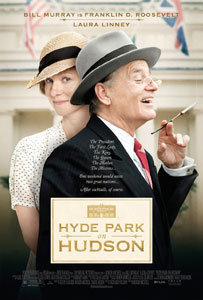 If you've ever wanted to watch a former president get a handjob, well you are in luck my friend, because the new film, Hyde Park on the Hudson, is now in theaters.
Handjob and all.
Starring Bill Murray as said handjob recipient Franklin Delano Roosevelt, the film takes place on a weekend in June of 1939, when the President and First Lady Eleanor (Olivia Williams) host the Kind and Queen of England (Samuel West and Olivia Colman) at their home Hyde Park on Hudson, in upstate New York.
This is the first time that a King has ever come to America, so it's a huge deal. And with a war on Germany looming, the King is looking for the support of FDR and the United States.
If this were what the movie were actually about, it would be pretty darn interesting. Unfortunately, this is only the secondary story.
The film is told through the eyes of Daisy (Laura Linney), FDR's fifth cousin and soon-to-be mistress. She's called to the Roosevelt home where the two quickly begin to bond. One thing leads to another and a relationship quickly forms. Sounds exciting and interesting on paper, but Daisy is so meek and uninteresting that the film suffers while she's on-screen. The character is absolutely boring and I don't think it's the fault of Linney's because there is nothing for her to play. How is she supposed to breathe life into someone who has basically lived her life on the sidelines, watching the world unfold before her?
The film only comes to life when the better story of the King is unfolding and I so wish this is what the filmmakers, director Roger Michell working from a screenplay by Richard Nelson, had focused on. Murray is only fine when he and Linney are in scenes together but his scenes with West as the King are pretty great. Was it great because I finally had something interesting to watch? I'm not exactly sure… I just know I was thankful when the two of them were on-screen.