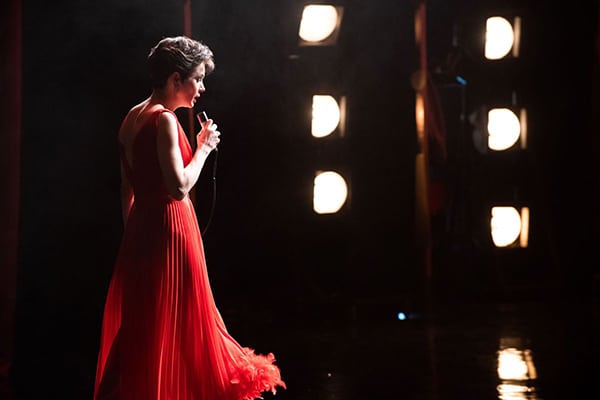 It's hard to believe that Judy Garland died at the age of 47. Onstage and in her films, she seemed so full of life and energy but all those years of drug and alcohol abuse eventually took its toll, taking away one of the premiere performers of a generation.
The new film, Judy, directed by Rupert Goold (King Charles III) and written by Tom Edge, is based on Peter Quilter's play, End of the Rainbow and tells the story of the last year of Garland's (Renee Zellweger) life. Unable to get work in Hollywood, she was desperate for work so she took one of the only jobs available to her at the time, which was performing at London's, The Talk of the Town. Leaving her two young children behind, she heads to England for her sold out run. The audiences loved her… Except for those occasions when was drunk or high and yelling at them from onstage. Or worse, passing out before them.
The people that are currently in her life, ex-husband Sid Luft (Rufus Sewell), boyfriend Mickey Deans (Finn Wittrock) and production manager Rosalyn (a really terrific Jessie Buckley) do their best to help and manage her and her addictions but each one knows (or eventually finds out) they can only do so much.
There's one very sweet and tender moment where a gay couple, huge fans of hers, have invited her back to their home. She's one of the biggest stars in the world, alone and lonely in the city, and it shows just how tragic stardom at such an early age could be. It also shows how much she meant to people.
Zellweger is beyond impressive. Her attention to detail, the body mannerisms and the ticks from years of drug abuse are so embedded in her performance that it's almost like she's channeling Garland, not playing her.
Unlike the play, the movie recalls some of her moments early stardom – filming The Wizard of Oz, dates with Mickey Rooney and creepy encounters with Louis B. Meyer –  and how those moments helped seed her addictions and self-doubt. It was a nice way to show has she got to where she was but there definitely could have been more.
The film lives and breathes on Zellwegger's excellent work and all the praise she's getting is absolutely deserved.