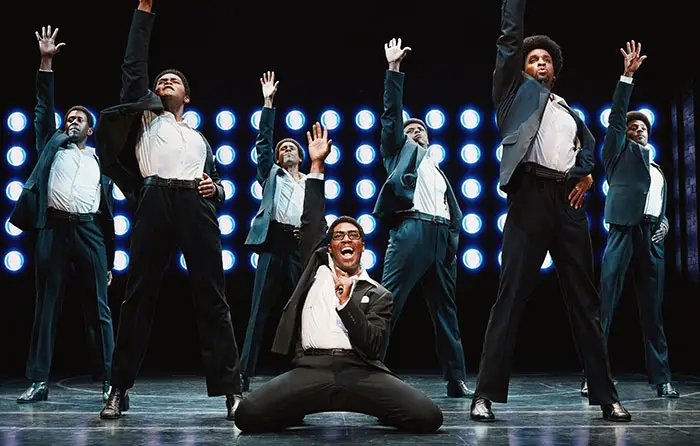 If you're a theater lover and looking to kick the New Year in high gear, Ain't Too Proud: The Life and Times of the Temptations, currently playing at the Civic Theatre in San Diego, is a great way to do that.
Directed by La Jolla Playhouse's Des McAnuff who also helmed the massive hit Jersey Boys, the jukebox musical is  full of every Temptations song you could want. Heck, there's over 30 songs in the show, so they give you all that you could ever want.
Michael Andreaus leads the production as Otis Williams, the founder and de facto leader of the group. He's not only the star but also the narrator, our window into what we see on stage. He's got a great presence on stage, as soon as you see him, you know you're going to love spending the evening with him. In high school, were we first meet him, he's not the most disciplined of kids. After a brief stint in jail, he decides to turn his life around and start his own band, like those from Motown. He quickly recruits Eddie Kendricks (Jalen Harris), the deep-voiced Paul Williams (E. Clayon Cornelious) and Melvin Franklin (Harrell Holmes Jr.) to join his new endeavor. After a few gigs, they realize they need to add one more element, and they find him in the talented but troubled David Ruffin (Elijah Ahmad Lewis).
After signing with Motown's Berry Gordy (Jeremy Kelsey), they are off and running. They soon becoming a sensation, selling out concerts everywhere they go. But, like aforementioned Jersey Boys, infighting, drugs and ego begin to creep in, hijacking their success and friendship.
There's a lot of sadness and hurt in the show, especially in the second act, But the humor in the book, which was written by Dominique Morisseau, goes a long way to help relieve that. There's an especially funny joke at the funeral of one of the singers that will make you die laughing. Sorry, I couldn't resist.
the action mostly takes place on a stage, so it makes sense that is what the set design is. And the projections onto the set, make it more open, which adds a nice touch.  One thing that I wish they did was to show the year when the scenes were taking place. The story follows the life and times of the band and spans such a long period of time that it would be nice to have seen the timeline of the action on stage.
Each actor is massively talented and you can tell they're having an absolute blast, which makes it so much more fun for the audience.
AIN'T TOO PROUD: THE LIFE AND TIMES OF THE TEMPTATIONS is currently playing at the San Diego Civic Theatre. For more info and tickets: Broadway San Diego