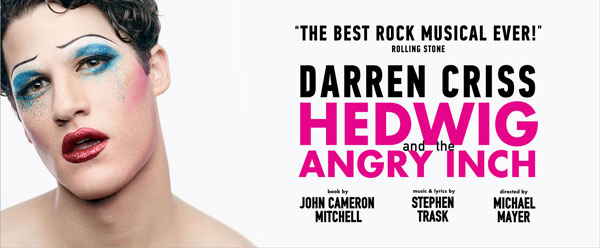 Hedwig and the Angry Inch, June 9th.
The intimate setting of Broadway's Belasco theatre plays host to Hedwig and the Angry Inch; a transgender singer from East Berlin and her back-up band.
Created by Stephen Trask and John Cameron Mitchell, Hedwig tells the funny, yet often cruel and deeply emotional story of the singer's life. Former Glee star Darren Criss is virtually unrecognisable in fishnets, high heels and a blonde wig, and Rebecca Naomi Jones plays Hedwig's husband, Yitzhak.
Hedwig tells us how she grew up on the eastern side of Berlin, at that time divided by a wall. In her 'early late twenties' she met Luther, who encouraged her to have a sex change operation so they could marry and leave Berlin. However, Hedwig's operation was botched, leaving her with an 'angry inch'- the cause of pain in more ways than one.
Living in the US, and abandoned by Luther, Hedwig meets Tommy. She creates a rock-star image for him and they write a hit album together. Now a huge star, Tommy Gnosis tries to distance himself from Hedwig and his past, leaving a very bitter woman in his wake.
The music for the show is phenomenal. The band deliver time and again, from the hard heavy rock numbers through to the slower more emotional ballads. The audience are on board too, whether there for Criss (the majority were), as fans of the show or just for an evening out at the theatre, when Hedwig commanded us to lift up our hands, everyone did and it's really quite a sight to see.
As the continually downtrodden Yitzhak, Jones delivers one of the best theatrical performances I've ever seen. I am still in awe of how someone with very few spoken lines can deliver such great characterisation. When Hedwig essentially gives Yitzhak his freedom at the end of the show and Jones appears in a dress and outrageous pink wig, the applause was immense, and very well deserved. Her performance moved me to tears and her vocals were beautiful.
Much has been made of Criss taking on the main role, making him the youngest Hedwig to date. It's no surprise that he slays each and every one of his vocals. He frequently sang live on Glee and having also watched him perform live in concert, I can attest he is a truly gifted singer.
However, Criss delivers so much more than just a good vocal performance. He transforms completely, and for nearly 90 minutes, we don't see a single element of the actor at all. We watch Hedwig. He embodies her so completely that at the end, when Hedwig is stripped bare, there is a moment of total and utter silence as the audience tries to rectify the man standing before them with the outrageous, funny, bitter and vicious, Hedwig that we've been watching.
He is a true master at bringing all Hedwig's pain and anger to the surface, and it manifests itself in each and every song, whether loud and intense or soft, slow and heartfelt.
He is quick to deliver off the cuff banter as well as rehearsed come backs which one would only realise were planned if seeing the show more than once, as I did. He keeps the pace up throughout and delivers long monologues that keep the audience laughing, and all in a flawless German accent. The audience does need to listen carefully though, to catch all that is being said.
Criss seems most at home out in the audience, making out with unsuspecting guys who then sit proudly smeared in lipstick for the rest of the evening. He makes sure to thank them all at the end, but to be honest, they all seemed pretty thrilled.
Hedwig and the Angry Inch is not your average Broadway show. It is decadent, funny, and outrageous. It is also deeply emotional and we are left feeling sad for Hedwig and the turns her life have taken. She has suffered the cruellest of fates, and Criss really makes that come across. The cast give the show their all, and are rewarded by a very appreciative audience who happily give a well deserved standing ovation.