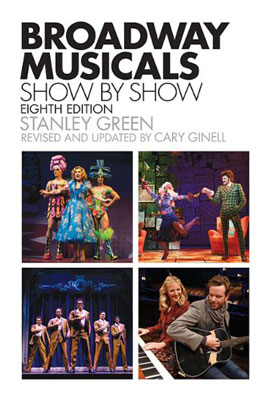 The new book, Broadway Musicals: Show By Show, is the most in-depth book on musical theater I've ever seen. According to the press release, the book, now in its eighth edition, is Broadway's most "widely used reference book" and I can definitely see why.
Originally written by Stanley Green (this edition has been revised and updated by Cary Ginell), the book is arranged in chronological order and begins with a show I'd never heard of called, The Black Crook (which began its Broadway run on September 12, 1866), and ends with A Gentleman's Guide to Love and Murder (which started its run on November 17, 2013). In between, it has every musical to ever open on a Broadway stage. Every single one of them.
In each write-up, they have all the info you'd need to know about each show: Who wrote the music and lyrics, the book and who the producers, directors and choreographers were. They also listed every song from each production, the entire cast and when the show started on Broadway along with how many performances they had.
They also have a nice synopsis of the plot and genesis of each show. These were quite lovely write-ups, never boring, crisp and quick and always fully detailed. Another thing I loved is that it doesn't pull any punches. It's always painfully honest in its approach to each show, like when they say that Andrew Lippa's "undistinguished score" was the "nail in the coffin" for The Addams Family. I saw it and they're right. I actually saw twice. What's wrong with me?
Last but not least, the 'Major Cast Members Index' is a terrific way to pass the time on a rainy Sunday (or like me, Saturday). Flip towards the back, find an actor and go to town.