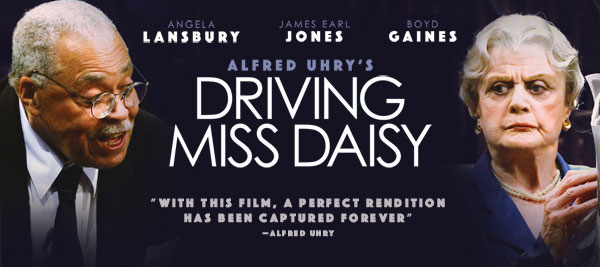 I've never really understood why productions from Broadway and beyond never filmed their shows to screen to a larger audience after they finished their run. Sure, we had some over the years, like Company and Rent, but these have been few and far between. National Theatre Live has been screening shows for a while and I've seen a few but to be honest, I've only been interested in a few of their offerings.
Thankfully though, it looks like I'm finally getting my wish. Screenvision and Broadway Near You have teamed up to bring a handful of shows to theaters nationwide. First up is the Australian production of Driving Miss Daisy, starring Tony winners Angela Lansbury, James Earl Jones and Boyd Gaines.
Everything about the show – the actors, the set, directing – is teriffic.
The play, which takes place between 1948 and 1973, follows the long relationship between Daisy (Lansbury), a widowed, elderly Jewish woman and her African American chauffeur, Hoke (Jones). At first, Daisy is not to happy that her son, Boolie (Gaines), has hired Hoke to look after her. She's got no desire to rely on a black man for any kind of help. Gradually though, he begins to win her over and the two begin to form a friendship that will last their lifetimes.
Written by Alfred Uhry and directed by David Esbjornson, the play looks age, friendship, and racial tensions and how they changed in the south (and America) over the years.
It's a pleasure to watch Lansbury and Jones. Watching them spar, bicker, yell and finally warm to each other is a joy. The two are treasures. How could you not want to watch these masters volley back and forth Uhry's dialogue?
Gaines is outstanding as well. It may not seem like it but he's got a hard job. We don't see him much but when we do, he's got to convey the passage of time. Each time he steps on stage, years have passed; he slouches more, talks a bit slower and gets a bit greyer. Through him, we realize how much time is passing.
As Daisy gets older, dementia starts to set in. Hoke comes to visit her – perhaps for the last time – and as they sit on a bench, she reaches over, grabs his hand and tells her that she's his best friend. For people who think that you can't get the same connection from watching a play on film as you can by sitting in the audience, I defy you to watch that moment and not tear up.
Driving Miss Daisy is in theaters June 4th through June 10th. To find theaters in your area, click here.