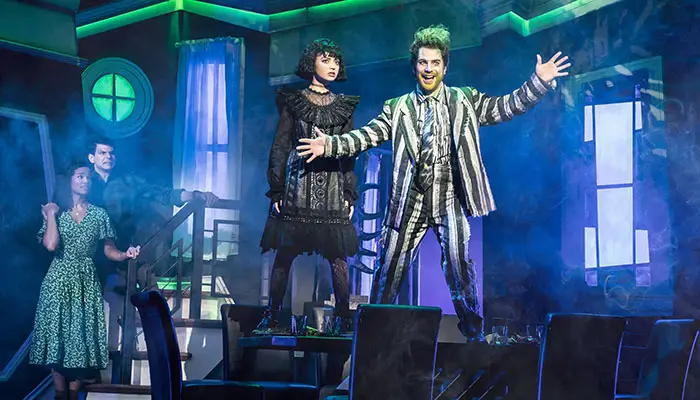 There's a lot of chaos in mayhem happening downtown right now and it's not just because the Padres are scrambling for a wild card spot in the playoffs. It's because Beetlejuice, the ghost with the most, has brought his traveling sideshow of demons to the Civic theater.
Based on Tim Burton's 1988 film That starred Michael Keaton as Beetlejuice and Winona Ryder as Lydia, the musical follows the same basic storyline, albeit with a few twists and turns: a young couple, Barbara (Britney Coleman) and Adam Maitland (Will Burton) die and find that their house has been sold to Lydia's (Isabella Esler) father, Charles Deetz (Jesse Sharp) and his mega-ditzy girlfriend, Delia (Katie Marilley). They want them out, so after a few failed attempts at scaring them off, Lydia and the Maitland's call on Beetlejuice (Andrew Kober in the performance I saw, Justin Collette on opposite days), to help them force Charles to sell. He agrees to help, but he's got ulterior movies… as does Lydia.
The show is hilariously funny, thanks in large part to both Kobler and Esler. Kobler's Beetlejuice breaks the fourth wall, makes inappropriate statements and literally says whatever comes to his mind at any given time. He even sang, for a brief second, 'Being Alive' from Company. He was having a ball up there and the audience was eating every moment up. Esler, who just graduated high school, is the true heart of the show. Tony Award nominee's Scott Brown and Anthony King wrote the book and smartly focus on Lydia and her sheer determination to reunite with her recently deceased mom. There is no way you won't feel for her, especially when she's belting out 'Home' towards the end of Act 2. By the way… she just graduated high school! I have no doubt you'll be hearing more from her in the future.
The music by Eddie Perfect fits the show, uh… perfectly but besides a few songs, 'Home' being one of them, I would bet you'd be hard pressed to want to listen to any of them on your own.
There's a scene, again at the end of the same Act, between her and her father (Sharp). It's just the two of them on stage talking about the death of her mother and it's raw and sad and one of the best moments of the show. I actually wondered, "How on earth did director Alex Timbers manage to slip that in there with all of the craziness we've just seen?" But then the insanity plows it's way back and it makes the finale evening better.
Beetlejuice, the Musical is currently playing at the San Diego Civic Theatre. For more info and tickets: Broadway San Diego