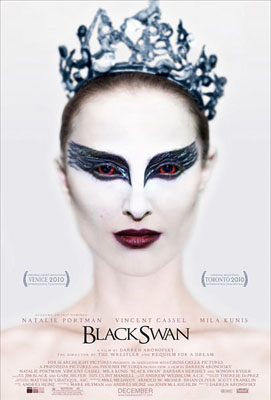 Sometimes I walk out of a movie not really knowing what to think. I mean, I know whether I liked it or not but I don't know whether I love it, you know?
That's what happened to me with Black Swan, Darren Aronofsky's new film.
Starring Natalie Portman as Nina, a virginal ballerina whose world completely revolves around her profession. She lives with her mother (Barbara Hershey) whose a former ballerina herself. In fact, it's almost like her mother is living through Nina to the point of treating her like a delicate porcelain doll.
When the artistic director Thomas Leroy (Vincent Cassel) decides to replace prima ballerina Beth MacIntyre (Winona Ryder) for the opening production of their new season, Swan Lake, Nina is his first choice.
But when a new dancer, Lily (Mila Kunis), arrives at the company, Nina suddenly has competition. The ballet needs a dancer who can play both the White Swan (which represents innocence) and the Black Swan (who is wild and free). Nina is perfect for the White Swan and Lily is the Black Swan – literally.
As the story unfolds, we see Nina fall into madness. Or is it? As Leroy says in the movie, "The Black Swan tricks and seduces him. The White Swan is devastated, jumps off a cliff and finds freedom." Is this a bit of foreshadowing? Will Nina find freedom?
I've never been a big fan of ballet. I had an ex-girlfriend who was a dancer and I always dreaded going to her shows. I never saw the beauty in it I suppose. But after watching this film, I'm now realizing what I missed. I mean, the first 30 seconds into the film I was hooked. Portman is dancing the White Swan – beautifully, I have to say – I couldn't take my eyes off her. I also learned to be a ballet dancer, with all its beauty, is just brutal.
The performances are all outstanding. Portman is exceptional as is Mila Kunis (one of the nicest people I've ever met, by the way). The ballet performances are absolutely incredible to watch and coming from me, that means a lot.
Yes, definitely go see this.
Director: Darren Aronofsky

Cast: Natalie Portman, Vincent Cassel, Mila Kunis, Barbara Hershey, Winona Ryder

Writers: Mark Heyman, John McLaughlin, Andres Heinz