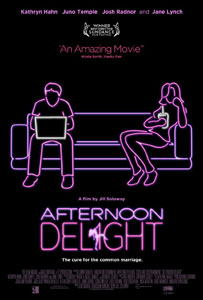 Ah, the ever wonderful afternoon delight. It's sometimes adventurous, usually exhilarating and always fun.
Unfortunately, this Afternoon Delight, the new film by writer/director Jill Soloway, is none of these things.
Kathryn Hahn is Rachel, a bored stay at home mom who decides to visit a strip club with her husband, Jeff (Josh Radnor), to add a little spice to their sexless marriage. She starts to pound the drinks and, like all visits to the club, a lap dance happens courtesy of a young stripper named McKenna (Juno Temple). Halfway into the song, Rachel freaks out and bails.
Then, for reasons we never truly find out, Rachel starts to stalk McKenna – in the nicest of ways – and forces herself into her life, eventually asking her to move in with her family to become her live-in nanny.
Well, of course she does because that happens all the time.
We then get to know more about the seediness of McKenna's life, the bland sameness Rachel and Jeff seemingly live and how life in the suburbs isn't always a bed of roses.
The performances are very, very good. Hahn is fantastic in her first starring role. She creates a character that, even in her boredom, manages to be funny, shocking and sad. Temple is her usual sex-pot self, and that's not a bad thing. From Killer Joe, Cat Woman's best friend in The Dark Knight Rises and now here, she's cornered the market on this character. Jane Lynch is low-key here as a psychiatrist who needs some advice herself. It was nice to see her play against her usual type. Please more of that because she was wonderful!
My problem with the film is: why? Why does Rachel force herself onto this girl after meeting her for less than 5 minutes? In no way did they make a connection in that short time. I don't think she ever even looked McKenna in the eyes. Was she attracted to her? You couldn't blame her if that was the case, but no, it doesn't go there.
It's just that she's bored. Yes, her mind is numb with her life of pre-school auctions and benefits, taking care of her child and running her household. I get that. But what is it about Temple's character that makes her want to risk everything by inviting her into her home?
We never really find out. We get a bit of an explanation at the very end but by then, it barely registers and I just didn't care. The damage was done; both in the film and for me as an audience member.