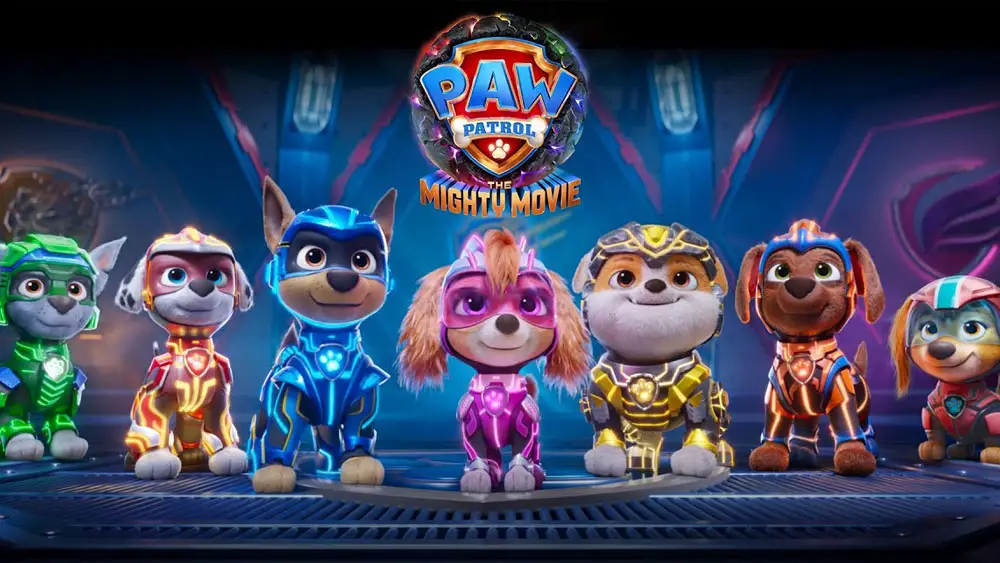 As the father of two young kids who have been obsessed with the adventures of Chase, Skye, Marshall and the rest of the Paw Patrol gang, I've seen more than my fair share of episodes. Multiple times. I know their names, I know where they live, I know there abilities. And I've seen the first Paw Patrol movie, appropriately named Paw Patrol: The Movie,  at least 20 times. I was pleasantly surprised I how good that was and this new one, Paw Patrol: The Mighty Movie, is just as entertaining.
In this latest installment, the Patrol gets an upgrade on their powers (and costumes!), thanks to an asteroid that's just crashed into Adventure City, courtesy of mad scientist, Victoria (Taraji P. Henson). Now, Skye can actually fly. Zuma can turn into water. Rubble turns into a wrecking ball. Soon, Victoria teams up with former Mayor Humdinger to steal the crystals and their powers all for themselves.
The first film was about Chase and how he fit into the group. This one is all about Skye, the smallest one of the group. She's got issues about her abilities but when Ryder reveals that he added the 'No pup is too small' line just for her and the fact that she does save the day, her confidence is back.
I love how each of these films help to teach children one specific thing and not bombard them with dozens of themes and ideas like some other animated films. It definitely helps to make the its point more solid and kids come away with that big idea.
But, why take my word for it? Here's what my two girls had to say:
Sadie (4 years old): "The Paw Patrol movie was good. My favorite part was the songs."
Ella (6 years old): "I thought that the movie was awesome. My favorite part was when Skye was really brave and she knocked the giant meteor out of the sky. My favorite super-power was Zuma because I liked that he can go through walls by turning into water. I don't have any non-favorite parts, I just liked it all."