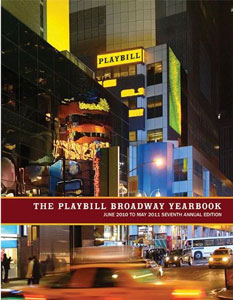 I originally posted this review back in October but I love it so much that I wanted to re-post it.
I love Broadway.
I'm fortunate enough that I get to New York a couple times a year and see as many shows as I can. Some are good, some are great and yes, some are bad. But, no matter the quality, I always get that excited feeling when the lights go down and the actors walk onto the stage.
I also love my Playbills.
I slide my ticket into the jacket for safe keeping, read all the actor bio's and do my best to make sure they aren't ruined by the time I get back to California.
With The Playbill Broadway Yearbook, I can relive those shows and all of the dozens of other shows I didn't get to see.
For any theater lover, this book is a must. I seriously have been looking at it every day.
It's displayed prominently on my coffee table and has quickly become one of my favorite books. It's huge, grabs your eye and once you pick it up, don't think you can just glance through it. Once you open it up, you won't be able to put it down.
This edition covers the entire 2010-2011 Broadway season. It includes almost 80 show Playbills – without the ads. You get the Playbill covers, bios, headshots, show summaries; everything you love about your little yellow and white booklets you get when you walk into a theater.
This years yearbook has all the new shows (The Book of Mormon, War Horse, Catch Me If You Can and yes, Spider-man: Turn Off the Dark), revivals (The Normal Heart) and long running shows as well (Billy Elliot, Mamma Mia! and Wicked).
You also get tons of never-before-seen photos and, something I really liked, insiders who let us in on backstage things we would have never known about. Things like actors rituals and regimens, unexpected happenings on stage, ad-libbing and more.
I'm going to stop writing now because I'm going to go back to the book.
Check it out, I promise that you will love it!