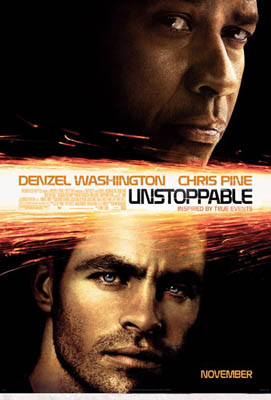 It's all Ethan Suplee's fault.
Thanks to his character's laziness, we have Denzel Washington and Chris Pine risking their lives to save a small Pennsylvania town from a speeding, Unstoppable train loaded with deadly chemicals.
The film, loosely based on a true story, has rookie Will (Pine) and veteran engineer Frank (Washington) reluctantly teamed together on a routine train ride through rural Pennsylvania. I say reluctant because Will is about to take Frank's job and he's none too happy about it.
At the outset of the ride, the two bicker with each other until they get they call; there's a runaway train headed straight for them. The two must now work together to either save themselves or save the lives of the small town that the train is barreling towards.
Since Denzel's the star, what do you think is going to happen?
If you're in the mood to see a truly great, crowd pleasing movie, then definitely check this out. Pretty much from the get-go, the film is a non-stop ride and in the hands on Denzel and Chris Pine, you actually care about these two characters and what happens to them.
In a funny bit, we learn that Frank's two daughters work at Hooters and he's not too happy about it. Denzel's slow burn during this is priceless.
The supporting cast is great also. Rosario Dawson, who I usually think is just ok, turns in a great performance. Kevin Dunn, as the corporate jackass who would rather lose lives then money, always elevates anything he's in and this film is no different.
This won't win any awards but I defy you to not to love this film and the performances by Denzel Washington and Chris Pine.