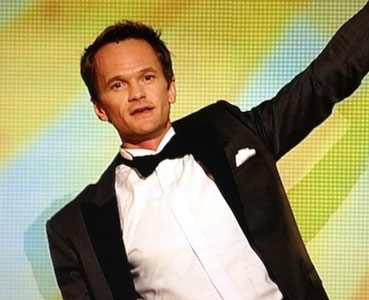 After hosting the Tony Awards, Neil Patrick Harris won't be away from Broadway too long. It looks like as soon as he's done with the last season of How I Met Your Mother, he's headed back to New York to start in the Broadway premiere of Hedwig and the Angry Inch.
The musical, by John Cameron Mitchell and Stephen Trask, will open in the spring of 2014.

The remaining creative team members, additional casting, and the theatre will be confirmed at a later date.
Neil Patrick Harris said, "I am simultaneously ecstatic and terrified to be stepping into Hedwig's heels. It is truly a once-in-a-lifetime role and I can't wait to begin the journey."
John Cameron Mitchell, who wrote the book and starred in the original stage and film productions of Hedwig said, "Who better to pass the wig to but the finest entertainer of his generation?" and composer Stephen Trask said, "It's like you're putting together a fantasy rock band and Paul McCartney agrees to play bass." 
David Binder, who first produced the show in 1997 and is now producing the musical on Broadway, said, "I'm so excited that everything has come into place to bring HEDWIG to Broadway. I have always felt that John and Stephen's musical is a masterpiece and deserved to be seen by wider audiences. Neil Patrick Harris is a consummate stage performer who knows how to rock — there is no one better to play the role of Hedwig on Broadway."
Hedwig, a musical comedy about a fictional rock and roll band fronted by a transgender singer played by Neil Patrick Harris, began off off Broadway at Westbeth and then ran over two years at the Jane Street Theatre beginning in February 1998. The musical won the Outer Critics Circle Award for Best Off-Broadway Musical and both John Cameron Mitchell and Stephen Trask won Obies. Rolling Stone called it "the Best Rock Musical Ever" in 2001. It won a 1998 New York Magazine Award and Entertainment Weekly's "Soundtrack of the Year" Award.  Time Magazine named HEDWIG the Top Musical of 1998.
 
The film of the same name, directed by John Cameron Mitchell, won the Audience Award and Best Director Awards at Sundance. John Cameron Mitchell won the Best New Director from the National Board of Review, the Gotham Awards, and the LA Critics Society. Stage productions have played for many years in Japan and in 2008, Korea hosted a popular televised reality show about the search for a new star to play 'Hedwig.'