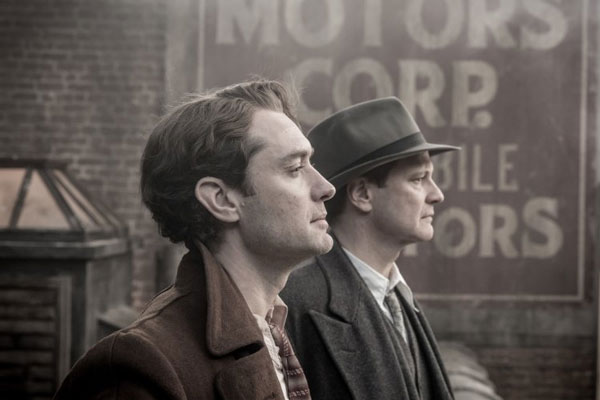 Who would have thought a movie about a book editor would be enjoyable? Editing in itself is a solitary activity – at least anytime I've edited – but director Michael Grandage manages to make a film about Max Perkins, an editor at Scribner's fairly entertaining.
Back in 1929, Perkins (Colin Firth) was the top editor at Scribner's in New York City who worked with authors Ernest Hemingway, F. Scott Fitzgerald and, as we see at the beginning of the film, Thomas Wolfe (Jude Law). Perkins finds greatness in Wolfe, whose manuscript for Look Homeward, Angel has just landed on his desk after getting turned down by every other publisher in town. The two form a quick bond, Perkins being the calming wind while Wolfe is "loud" and "grandiose."
Law as Wolfe chews the scenery and that's not a bad thing here. It's not like he's in another movie, he's just the right amount of over-the-top with his southern accent and wild flailing arms. He's a whirlwind and you really can't look away when he's on screen. Law has been nailing his roles lately and here it's no different.
Firth has the more difficult role. Perkins is so sedate that when he finally cracks in front of his wife (Laura Linney), we're almost thankful to finally have seen some kind of emotion. But what he does in those moments of quiet is pretty terrific.
Nicole Kidman also stars as Wolfe's girlfriend, Aileen Bernstein, a costume designer for Broadway. She's left her husband for Wolfe and at first is encouraging of his drive and success. But as the time progresses, she becomes distrustful of Perkins and the hold he has over him. We're never really sure why that is though.
Thankfully, most of the editing scenes aren't just Perkins sitting at his desk scribbling out paragraphs with a red pen. He and Wolfe are walking down streets, at bars drinking and deciding on what to edit. It makes for an energetic sequence.
There's a lot to like about the film, written by John Logan (Gladiator and the play, Red) and based on A. Scott Berg's book, Max Perkins: Editor of Genius, namely the performances and the set design. It's really Law's movie and on his work alone, I'd recommend giving this a look.