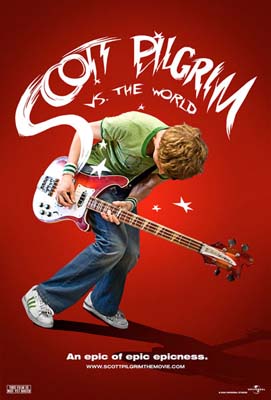 If you want to see one of the coolest films of the summer, run to see Scott Pilgrim. I'm serious. This movie rocks!
Based on a graphic novel, Scott Pilgrim vs. The World stars Michael Cera as an awkward hipster who plays in a band one of the worst bands around. In between rehearsals, Scott is romancing (more like dealing with) a high school girl, Knives Chau (Ellen Wong), but then he meets the girl of his dreams, Ramona Flowers (Mary Elizabeth Winstead), and sets out to win her heart.
There's only one problem: He has to defeat her seven evil exes.
I've seen so much about this film that I was worried this one wouldn't live up to the hype, but writer/director Edgar Wright has made something special. It's visuals feel like it comes straight of a comic book and the fights have a quirky 80's video game vibe. You just have to see it to experience it; It's a mash-up of movies, music, video games and comic books.
Michael Cera again plays Michael Cera, but if you're successful at something, why rock the boat? And you're going to love the rest of the cast, especially Kieran Culkin; he's always got something quick and funny to say. Winstead is pretty perfect as the unattainable girl and Mark Webber, Alison Pill and Johnny Simmons are hilarious as the band.
Go see this film! We want unique films like this to keep coming out and the only way we can do this is to support movies like this.