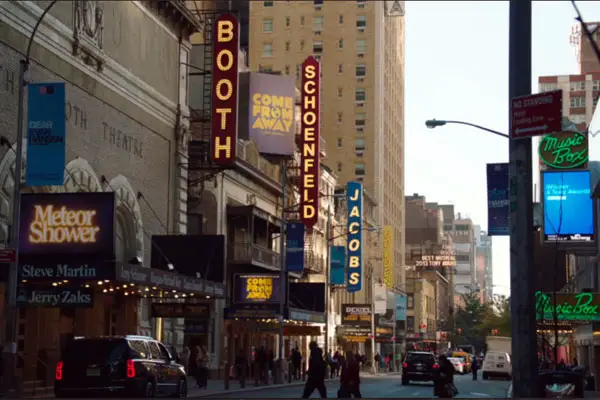 Due to the pandemic, Broadway (and theaters all over the country) has been closed for an absurd 18 months. And for actors, stage managers and anyone involved in the theater-industry – including theater lovers – it's been far too long of a hiatus. But…
Broadway is back, baby!
The lights are back on in the Great White Way and to help get you (us) back into the groove is a perfectly-timed documentary, On Broadway. Directed by Oren Jacoby, the film is a wonderful history of Broadway from 1969 to present day, featuring interviews from Hugh Jackman, Christine Baranski, Ian McKellen, Helen Mirren, John Lithgow, Stephen Sondheim and the late Hal Prince.
Back in the early 70s, Broadway was struggling to survive. Times Square and the surrounding theaters were surrounded by adult theaters, prostitutes, drugs and the nonsense that comes naturally follows. It also didn't help that the shows that were playing at the time were considered tame with the social upheaval of the era. It wasn't until New York City got its act together and cleaned up the streets, that it slowly started to come back.
But, as the film states, one of the happy accidents that took place during that time was that with low attendance, theaters and producers began taking chances on young creative unknowns like Prince and Sondheim. And we know how their careers turned out.
But, it wasn't until A Chorus Line premiered in 1975, that Broadway really made its comeback. The show was such a smash hit, bringing people back to the city in droves, that it helped every other theater around it.
The filmmakers use lots of archival footage and it's just such a treat to watch, sometimes not in a good way. Like when the protests that took place when the storied Helen Hayes Theatre was torn down to make way for the towering Marriott Marquis Hotel.
One thing though that was odd: at times, it followed a new Broadway show called, The Nap, which began previews at the Samuel J. Friedman Theatre in September 2018. We see the cast, writer (Richard Bean) and director (Daniel Sullivan) deep in rehearsals as they prepare to open on Broadway. It's interspersed throughout and feels like it doesn't belong, mostly because it doesn't add to the film. They stop on the opening night but don't mention how the show fared, reviews or anything else one would be curious about. It almost feels like Jacoby had miscellaneous footage and wanted to use it because, hey, it's about Broadway. It just takes away from the spirit of the rest of the film. And incidentally, The Nap ran for 53 performances, closing in November.