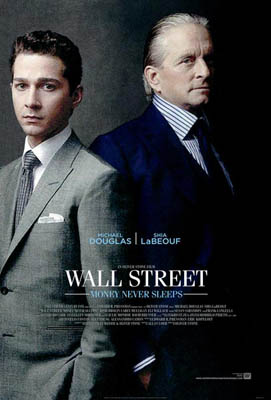 Wall Street: Money Never Sleeps
Director: Oliver Stone
Cast: Michael Douglas, Shia LaBeouf, Josh Brolin, Carey Mulligan, Susan Sarandon, Frank Langella
The Story: When Gordon Gekko (Michael Douglas) is released from jail, he sets out to repair his damaged relationship with daughter, Winnie (Carey Mulligan). He forms an alliance with her fiance, Jacob (Shia LaBeouf) and they both set out to get the two back on speaking terms. Meanwhile, Jacob gets involved with the powerful Bretton James (Josh Brolin) as he and Gekko again team-up to bring him down.
Thoughts: While I did like the film, I walked away with a shrug of the shoulders. I didn't care at all about LaBeouf's character. He starts off the film a success: money, great apartment and a total hottie for a girlfriend. After he loses everything (this isn't a spoiler) and begins his plot for revenge, I was seriously rooting for Josh Brolin to win. Sure, they show us that his character came from nothing to get to where he is now…but guess what? I didn't care. His character was just an a-hole. They want us to believe that he's kind of a bad a— (racing motorcycles, sparring with Josh Brolin) but I just did not buy it.
Carey Mulligan, Michael Douglas and Josh Brolin are the only reasons I liked the movie. It was great to see Douglas back in the role of Gekko – It fits him like a glove. I wish the film centered more on him as opposed to LaBeouf. His eventual turnaround towards the end of the film – I won't spoil it – was a little too easy of a wrap up but it's good to know the character goes out on a high note. Brolin plays a perfect pompous a— while Mulligan elevates the thankless role of the girlfriend/daughter).
And, yes, there is a Charlie Sheen cameo. Although it was funny, it didn't seem like he was reprising his Bud Fox character from the first film but more like making an appearance as the character from Two and a Half Men. I was almost expecting Jon Cryer to walk into the scene and make a joke.