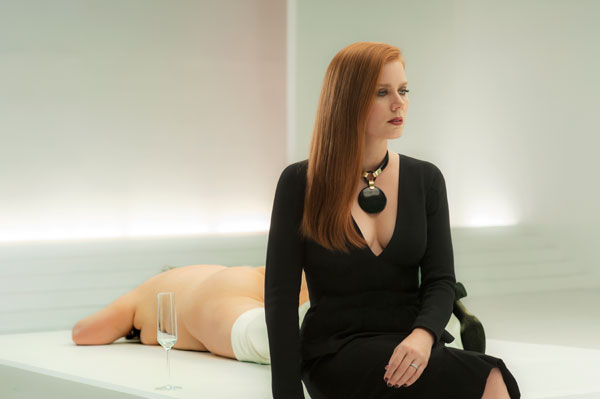 As a fashion icon, Tom Ford is at the top of his game. As a writer and director, it's safe to say that he's at the top there as well. His debut film, 2009's A Single Man, was a terrific film about love and loss. With Nocturnal Animals, his sophomore effort, there's no telling where his watermark ends.
Amy Adams plays Susan Morrow, a successful LA art gallery owner, who lives in a world of perfection. Her house, office, gallery and clothes are meticulous. She can control everything that people see. Once the doors are close though, that's when things start to unravel. Her always traveling husband, Hutton (Armie Hammer), is cheating on her and she hate's where her life has gone.
Then a manuscript, written by her first husband, Edward (Jake Gyllenhaal), shows up at her door. She hasn't seen him in years, leaving him for Hutton. Needless to say, there is no love lost.
The book, called Nocturnal Animals, tells the story of a teacher, Tony (Gyllenhaal in dual roles), and his family heading off on a road trip. What happens can easily be described as terrifying. They're forced off the road in rural Texas by Ray (Aaron Taylor-Johnson) and his redneck pals and, in a prolonged, squirming scene, he's got to watch as they drive off onto the dark Texas highway with his wife and daughter. Detective Bobby Andes (Michael Shannon) gets involved and together the two begin a long hunt to find the guys who did this to his family.
As Susan reads the book, which is dedicated to her, she relives her time with Edward and begins to regret what happened during those days.
The film, based on a 1939 novel, Tony and Susan, by Austin Wright, is beautiful. The violence notwithstanding, Ford and cinematographer Seamus McGarvey, go from sleek nighttime Los Angeles to the dusty plains of West Texas.
Adams, who's on a roll with this and the wonderful The Arrival, go from a young and vibrant college student to a hardened, LA career woman. As she's reading the book though, she's doing a lot of thinking about the past and coming to terms with who she is and what she wants and that leads to a lot of staring off into the ether; on a bed, in the bathtub, at work, in a restaurant.
Gyllenhaal and Shannon are outstanding, Shannon in particular. He's plays a wiry, chain-smoking, ornery guy who's down to his last f*ck. He wants to solve this crime and he doesn't care how he does it. It's downright painful to watch Gyllenhaal here. He's an emotional wreck in both roles. As Tony, he's haunted, gaunt and desperate.
This is one of those films that you'll think about long after the lights come back on.