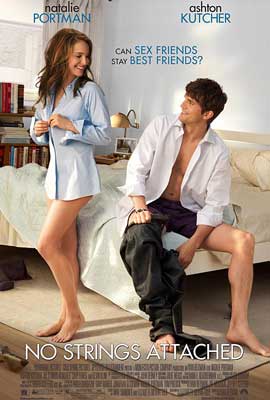 I wanted to hate this movie.
I love Natalie Portman and Ivan Reitman. Reitman fueled my youth with some of the greatest comedies ever (Stripes, Meatballs, Ghostbusters) and Portman is one of the greatest actresses around; I love to watch her work.
My problem is Ashton Kutcher. I just don't like him. I was on his former TV show, That 70's Show, and he wasn't the friendliest person on the set.
Ok, he was a douche.
So, that being said, I usually like to rip any movie that he's in. And lately it's been easy. Until now.
No Strings Attached is great!
From the opening summer camp scene where the two main characters meet to the end, this film is charming, hilarious, vulgar and at times, sad. Kutcher plays Adam, a low-level TV assistant on a "High School Musical"-type show. He and Emma (Portman) have serendipitously met through the years, starting with summer camp, moving to college and culminating as post-grads in Los Angeles.
Portman is Emma, a doctor in the middle of her residency. She's not into showing emotion and has no desire for a relationship but after a long day of doctorin', a little (or a lot) of sex wouldn't hurt.
Kutcher plays Adam, a low-lever producer of a High School Musical-esqe show who dreams of having one of his scripts produced. His dad (Kevin Kline) is the former star of a huge television show and a womanizer who ends up dating Adam's ex; this bit of news leads to Adam getting hilariously drunk and meeting Emma again.
Portman and Kutcher have great chemistry. There scenes are natural and, yes, you do want them to be together.
The film also benefits from the great supporting cast. Kevin Kline is fantastic as Adam's 'it's all about me' dad and Lake Bell, Gretta Gerwig are worth their weight in comic gold.
I'm happy Reitman is back to form after some disappointing films. He makes this a film to see.
Oh, and here's something you'll enjoy. I overheard this at the screening: "Who's that guy playing the dad?" "Kevin Kline" "Oh, the guy from Wild, Wild, West."
Director: Ivan Reitman
Cast: Ashton Kutcher, Natalie Portman, Kevin Kline