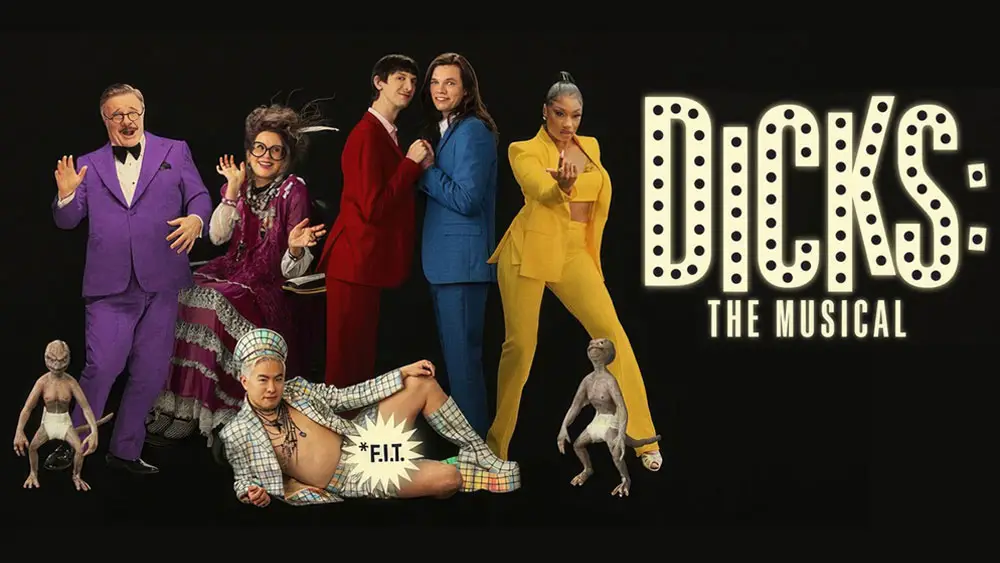 I really didn't know anything about this film going into it, except that Nathan Lane was one of the stars. But hey, watching Nathan Lane in a new movie musical? I was all in. Had I known how absolutely insane this film was – and I mean that in the best way possible way – I would have been even more jazzed.
Written by Aaron Jackson and Josh Sharp and directed by Larry Charles, Dicks the Musical can best be described as The Parent Trap as if it was filtered through John Waters' brain.
Trevor (Jackson) and Craig (Sharp) are two highly successful salesmen living the best (debaucherous) lives in New York City. When they find out that they're actually twins whose parents raised each one of them as if they were only children, they devise a plan to get Mom Evelyn (Megan Mullally) and Dad Harris (Lane) back together so they can recapture what they've been missing their entire lives: a normal family.
But to say that there's anything normal about this film would be quite a stretch. The twins are clueless, Lane has a pair of sewer boys (don't ask) as pets and Mullally has… I can't say without ruining it. The musical numbers are catchy and crazy funny, and there is absolutely no way you'll ever know what is going to happen from scene to scene. Which is rare to say.
I have absolutely no idea how this movie got made but good on Larry Charles, A24 and especially Lane and Mullally for signing on because we need more films like this. Comedies aren't supposed to appeal to everyone, especially in times like these. If they screened this to a republican only audience, there would be ambulances lined up around the block with all the heart attacks. Especially with one of the songs sung by the cast and Bowen Yang's God.
Hey Aaron jackson and Josh Sharp, more of this please! I can't wait to see what they do next.