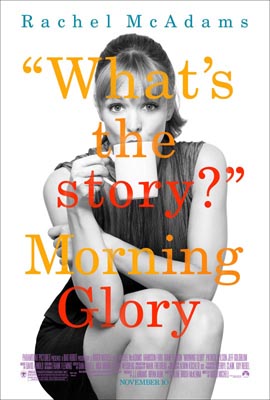 Roger Michele directed one of my favorite movies, Notting Hill (yeah, I'm not afraind to admit that), so I was looking forward to his latest film, Morning Glory.
The films stars Rachel McAdams as hard-working TV producer Becky Fuller. You know she's hard-working because she wakes up when everyone else is going to bed, has no social life and lives for her job. When she's fired as the producer of a small-time New Jersey morning show, she tries everything she can to find a new job. Then, through the wonders of screenwriting and Jeff Goldblum, she lands the job as the producer of "Daybreak" – a last-place national morning news show.
Becky makes a splash the first day by firing the lead anchor and deciding to bring on legendary TV anchor Mike Pomeroy (Harrison Ford), who future boyfriend Adam Bennet (Patrick Wilson) describes as the "3rd worst person in the world."
When Pomeroy refuses to cover morning show staples like celebrity gossip, weather, fashion and crafts – let alone work with his new co-host, Colleen Peck (Diane Keaton), the longtime morning show personality, it looks like her time as producer is about to end.
But we know it doesn't.
The film is just ok. McAdams, who I love, seems to have drank a pot of coffee before every scene. There's even a line where someone asks if she's going to break out into song. That being said, I thought she did a great job carrying the film. Harrison Ford plays a curmudgeonly Tom Brokaw type. At first I didn't like him in this but he did grow on me. Diane Keaton was, well, Diane Keaton; she really doesn't have much to do in the film.