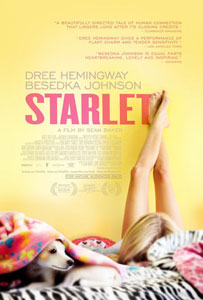 I saw director Sean Baker's last film, Prince of Broadway, at the 2009 San Diego Film Festival and it was hands down, the best film I saw that weekend. Gritty, realistic and mostly cast with non-actors, the is film about Lucky (Prince Adu), a hustler in New York City's wholesale district who is forced to adapt to when an ex-girlfriend drops a baby off on him. 
In his newest effort, Starlet, Baker moves coasts to Los Angeles and once again, knocks it out of the proverbial park.
The film stars Dree Hemingway (yes, of that Hemingway family) as Jane, an up-and-coming porn star who forms an unlikely friendship with the elderly Sadie (Besedka Johnson). After she finds a stash of money from a vase purchased at a yard sale, Jane, along with her dog Starlet, attempts to find out the story of Sadie's mystery cash.
Jane's world of porn shoots, bad roommates and sketchy mentors seem like a world away from Sadie's insular and restrained life and as the story moves forward, Jane finds herself becoming more and more attached. Unlike everyone else in Jane's life, Sadie doesn't need her and watching Jane force herself upon Sadie, you get the feeling that that is Jane's lot in life; being needed and wanted.
The film is graphic – very graphic – but don't let that throw you when you watch it. The backdrop is the LA porn industry and in the scene I'm referring to, it depicts how much of a job porn actually is. A seemingly fun one, but still, a job.
Hemingway is outstanding as Jane and I have no doubt you'll soon see her everywhere; Casting directors are probably wearing out their fingers trying to get her agent on the phone. She's only been in a handful of things but she comes off so natural and her work her is so effortless, you'd think she'd been acting for years.
As Sadie, Johnson is making her acting debut but you'd never guess from watching her. Baker seems to have a knack for pulling out great performances from non-actors and he's done a wonderful job with Johnson.
The film also stars Stella Maeve, James Ransone and Karren Karagulian.