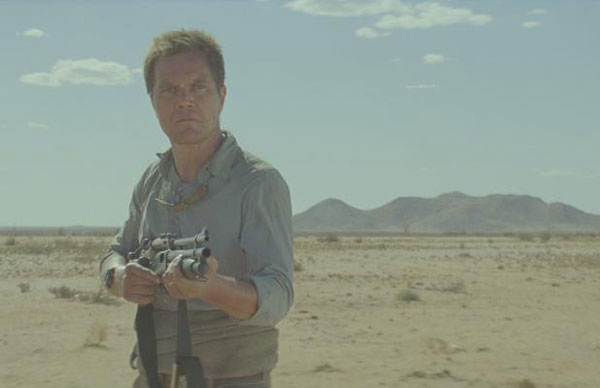 Writer/Director Jake Paltrow must be a huge fan of The Road Warrior because his new film, Young Ones, is a watered down version of George Miller's classic film.
The film is set in the near future where water is the most treasured resource you can have. Ernest Holm (Michael Shannon) lives on a wasteland of dirt and more dirt with his kids, Jerome (Kodi Smit-McPhee) and Mary (Elle Fanning). He spends his time trying to find ways to bring water back to his land but the bandits who terrorize the area don't make things easy for him and his family. And to make matters worse, Mary's boyfriend, Flem Lever – huh?,  (Nicholas Hoult) secretly wants the land for himself.
Shannon and Smit-McPhee are as good as ever and Hoult as the villain of the film works quite well. His boyish good looks add to his turns as the big bad of the film. Fanning, however, is wasted. She really has nothing to do here except cry and look concerned.
The film has its moments but mostly it's trying so hard to be stylized that it gets in its own way. And it's a shame because the film looks great. Shots of the wide open nothingness of the desert look beautiful here. And the story is as bleak as the landscape, which is a good thing.
But, some of the style decisions Paltrow has for the movie are major distractions. It feels like he's going for something bigger or more unique than the story warrants. He's got these odd fade in and fade out's throughout the film that it becomes a huge distraction, annoying almost. One character has a red-winged pigeon for unexplained reasons and we never find out how we got to be in this chaos of a world without enough water. And if there isn't enough water to go round, why do they have a character drinking a Coke? Wouldn't you think production of that would have ground to a halt?