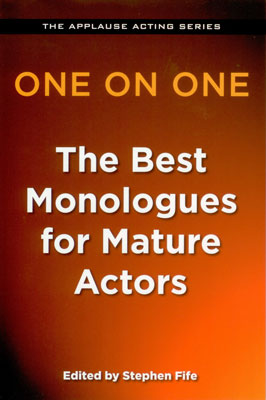 Let's set the record straight, One on One – the Best Monologues for Mature Actors isn't for only the 55+ crowd. The book, edited by Stephen Fife, classifies 'mature' as 40 and up. A scary prospect for those of us creeping up into that age bracket but it's actually good for actors who've been in the game for a while. Most of the people who've tried this career when they were young have moved on and let's be honest, the forty-plus age-range always has the best roles. And this book has a nice selection of them from a wide variety of genres for both men and women.
The book includes monologues from classics like Shakespeare's A Midsummer Night's Dream, Coriolanus and Hamlet, Chekov's The Seagull and Moliere's The Misanthrope to contemporary classics such as Eugene O'Neill's Long Day's Journey Into Night, Tennessee Williams' The Glass Menagerie and Cat on a Hot Tin Roof and Arthur Miller's A View From The Bridge.
Fife Also includes newer works from Stephen Adly Guirgis (The Last Days of Judas Iscariot), Lisa D'Amour (Detroit) and Christopher Durang (the great Vanya and Sonia and Masha and Spike).
The book also includes lesser known works (at least lesser known to me) from David Mamet, Edward Albee, Sarah Ruhl, Tom Stoppard and John Patrick Shanley. Reading these monologues actually made me want to check out the original works.
Fife, a playwright himself, has even included several of his own works which are all quite good.
If you're in search of a new monologue or just want to add one to your actor's toolkit, you can't go wrong here. Each and every piece included would be a perfect fit for any audition, a classroom exercise or showcase.
If you're looking for monologues, we have them here!