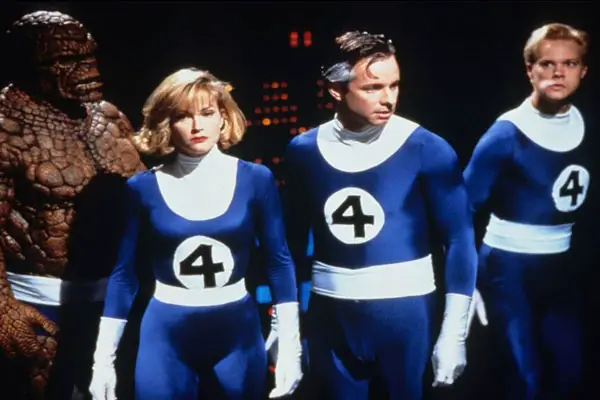 Marvel's Fantastic Four, the first family of comic books, has never properly been put on film. There were moments in Tim Story's 2005 film (that starred future Captain America, Chris Evans as Johnny Storm) that were nice but those were fleeting. And don't forget the mess that last summer's Fantastic Four was. Oy.
Some might not know, except for die-hard fans, that in 1994, Roger Corman produced the very first Four film, The Fantastic Four. And in the long-standing tradition that is FF, it too was terrible.
But people weren't supposed to know that because it was never meant to be seen by the public.
That's the premise of Doomed! The Untold Story of Roger Corman's The Fantastic Four. It tells the behind the scenes story of how the actors and filmmakers were duped into believing that they were making a movie for the world to see when in fact, it was a big ruse for one producer to hold onto the rights of the Fantastic Four.
Cast members from the film – Jay Underwood (Johnny Storm/Human Torch), Michael Bailey Smith (Ben Grimm/The Thing), Joseph Culp (Dr. Doom), Alex Hyde-White (Reed Richards/Mr. Fantastic) and Rebecca Staab (Sue Storm/The Invisible Girl) – filmmakers and Corman himself are all interviewed, each giving their take on what happened. As you can imagine, the cast and filmmakers are a bit bitter (in a joking way) and Corman is somewhat cagey in his responses.
But think about this for a moment: This film could have been a huge watershed moment for these actors. At the time, they were stunned to hear what was really happening. This could have been their big break. Sure, some twenty-years later, the pain and anger has gone away but you can't begrudge the occasional, 'What if?'
Some of the music that is playing under the interviews is so melodramatic, it almost tries to make you think the whole thing is so tragic. Something that is a bit more monumental than it really is.
The whole film is a bit inside baseball. It was interesting to me and I liked the rehashing of the story, but I'm a huge comic book and Marvel film fan. If that isn't you, then you might want to skip this.
Doomed! The Untold Story of Roger Corman's 'The Fantastic Four' is on VOD now.