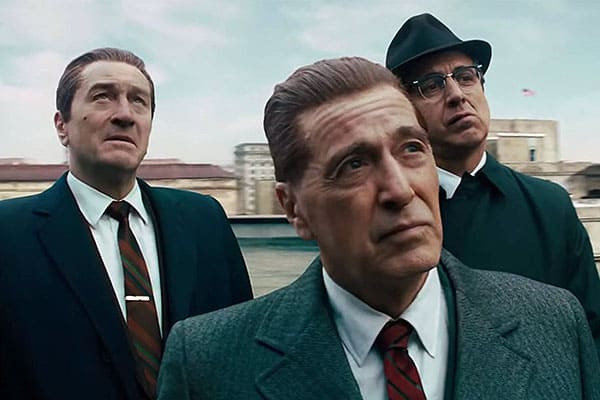 If you're the kind of person who thinks that a three and a half hour Martin Scorsese film starring Robert de Niro, Al Pacino and Joe Pesci is way too long, Netflix should automatically cancel your account. Each and every minute of Scorsese's epic is terrific and the three plus hours flew by. Honestly, it could have gone on for another hour.
Based on the 2004 book, I Heard You Paint Houses by Charles Brandt, The Irishman stars de Niro as Frank Sheeran, a hitman for the Bufalino crime family. The film starts with Sheeran alone in a retirement home as he looks back on his life. He begins with his days as a truck driver back in the 50s, when he randomly meets Russell Bufalino (Pesci). Bufalino eventually befriends him, using Sheeran as the muscle (among other things) for the family.
The film winds its way through one incredible story after another, leading us to the meat of the story: Sheeran's friendship with Jimmy Hoffa (Pacino), the president of the Teamsters. Sheeran and Hoffa form an unmistakable bond, their families even spend time together. But, as with the gritty reality of the mob, that doesn't stop Sheeran from whacking the famed Union boss.
The film is character actor heaven: de Niro and Peschi, Pacino and Harvey Keitel, Bobby Cannavale, Jesse Plemons to name a few. It even has a cameo by Steven Van Zandt as crooner Jerry Vale. To watch these guys interact with each other on screen is just pure joy. De Niro and Pesci haven't lost a step and work perfectly together. Bringing Pacino into the mix, there's nothing better.
It's a shame it took this long for these talents to finally work together but the film is a masterpiece and proves, once again, why Scorsese is a truly one of the best directors we have.