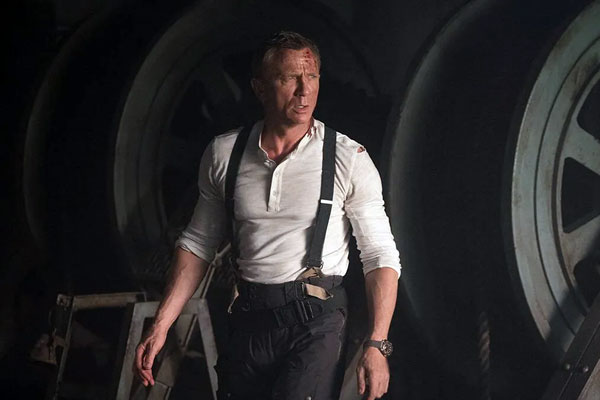 They saved the best for last.
In No Time To Die, Daniel Craig's last outing as 007, we get to see a more human side of James Bond (finally). His past, and time, have caught up with him and it's a more reflective version of the super spy then we've ever seen.
When we last saw Bond in 2015's Spectre, he had turned in his license to kill to spend some quality time with his new love, Madeleine Swann (Lea Seydoux). When the film opens, they're still together and madly in love. But, Bond being Bond, a "normal" life doesn't come easily. A gang of bad guys on motorcycles find him and, after an adrenaline packed action sequence happens, he's led to believe that Madeleine was behind it. The two part ways and… cue Billie Eilish's song and trademark opening titles.
Cut to five years later and his old friend, CIA agent Felix Leiter (an always brilliant Jeffrey Wright) has come looking for him, asking his help in finding a scientist who has gone missing. Said scientist has created a super weapon that could potentially wipe out most of mankind (is there any other kind of super weapon?). After initially hesitating, he finally agrees, dusts off the ole' tux and away we go into the crux of the story.
One of the things about the movie, which I quite liked, is that it takes elements of story lines from the previous 4 films and weaves them into the plot. The loss of Vesper Lynd plays a big part early in the film. And Christof Waltz is back to ham it up (in the best way possible) as Blofeld. He's been in a maximum security prison and the only one that he's permitted to talk with is… Madeline. The two reconnect in an effort to ferret out the new big bad, Safin (Rami Malek), who wants to pull a Thanos and deploy the missing scientists (who, as it turns out is not missing, but happily working in Safin's lab) weapon to kill most of the world's population.
There's a lot of fun moments, particularly when Bond meets up with Paloma (Ana de Armas), a new agent who joins him on a quick mission. She's feisty, got a glimmer in her eye, is a total badass and should be given a spin-off movie as soon as possible.
Towards the end of the film, we see Bond realize that he might actually want that domestic life, especially in one quick moment that I won't give away. He just has to defeat Safin in order to get there.
Craig has been the best Bond yet, there's no question in my mind about that. Sean Connery, who originated the role and played him in six films, is a close second, but his Bond was a product of that era. As was Rodger Moore, who took up the mantle after Connery left the series. Their Bonds were fairly one-dimensional people and, though they each played Bond quite differently, fairly surface-level characters. Craig made his 007 an actual person, with nuance and sadness, longing, humor and even fear. It's almost sad to see him go.