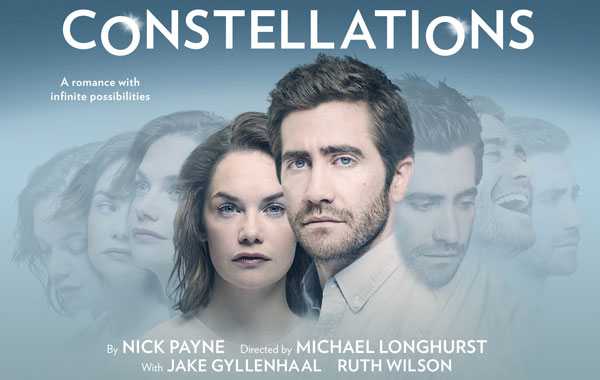 I was in New York over the holidays and had a chance to check out MTC's Constellations, the new play starring Jake Gyllenhaal and Ruth Wilson, when it was very early in previews. I think I saw the 5th or 6th show so there's a good chance some things have changed but honestly I hope they didn't because what I saw was absolutely wonderful.
Written by Nick Payne and directed by Michael Longhurst, Constellations follows the relationship between Roland (Gyllenhaal), a beekeeper who makes honey for a living, and Marianne (Wilson), a physicist; from the first time they meet to the ultimate end of their time together.
The twist, though, is in the way the play is structured. Their relationship plays out in different timelines (or universes if think in a more cosmic kind of way) where each one gives us a variation of their life together.
Each scene is the same but yet different, sometimes with the same dialogue and either played with a different attitude and different subtext or tweaked slightly to make one character the villain of the scene. And each scene is quick; some were no more than 20-seconds long. Imagine how that is to act? Actually imagine how the whole show would be to act in? Each scene has to have a direct intention, a beginning, middle and an end. There's got to be hundreds of scenes in the show. Rehearsals must have been so complicated and maddening! But Wilson and Gyllenhaal, both in their Broadway debuts, knock it out of the park.
With Nightcrawler, March's Enemy and last year's Prisoners, I can't think of another actor who is more at the top of his game right now then Gyllenhaal. His streak continues here. As the bearded Brit Roland, he's charming, sometimes mean and sad but always you're rooting for him.
If you've watched ShowTime's, The Affair, you'll know that Wilson is having an equally great year too. Her Marianne is smart yet approachable, tender and tragic.
The play comes in at a brisk 70-minutes (no intermission) but honestly it only feels about thirty. It's so fast, yet so moving and funny that you'll be walking away wishing you could see it again. But hurry, it's only around for 13-weeks!
For tickets and more information, click here.