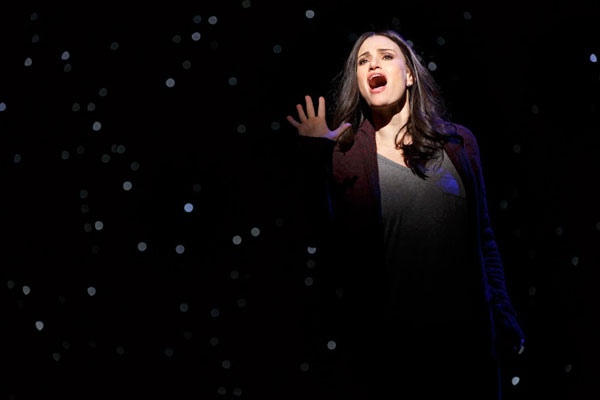 Broadway San Diego is exactly what Broadway San Diego has brought to town with If/Then. Tony Award winner LaChanze (The Color Purple, Once On This Island), Anthony Rapp (Rent), James Snyder (Crybaby, Rock Of Ages) and Tony Award Nominee Idina Menzel (Wicked, Rent) reprise their roles from the New York production and from the very second they step on stage at the Civic Center, you can see and feel from your seats why these performers are at the top of their game.
Menzel stars as Elizabeth, a city planner who's just moved back to New York to restart her life after a divorce. New York is a city where anything can happen and in this story, Elizabeth's life is split into two stories. In one, she's the glasses wearing Liz who ditches her career for true love. In the other, she's Beth, career-woman who quickly rises to the top of her field.
It's been written that the show is reminiscent of the film, Sliding Doors and that's true. But If/Then expands on that films idea: Each time Elizabeth makes some kind of choice or decision about her life, it then changes the lives of her friends, including political activist and one-time boyfriend, Lucas (Rapp), and fiery kindergarten teacher Kate (the fantastic LaChanze). Rapp's Lucas is like a puppy and it's no wonder why Elizabeth has been friends with him for so long. LaChanze is a whirlwind, a real force of nature. You can't take your eyes off her. She can spin a line into something tremendously funny and the scene where she's talking to her students is one not to be missed.
The show follows both stories simultaneously and at times, it's a bit hard to navigate save for the lighting design and the fact that Liz wears glasses. The story – which at times is very funny and sometimes horribly sad – is nothing groundbreaking.
With music from composer Tom Kitt, book and lyrics by Brian Yorkey (the creative team behind the Tony award-winning musical Next To Normal) and directed by Michael Greif, If/Then is a nicely told story that's a showcase for a true Broadway star, Menzel. Everything about her performance was perfect and her solo number (pictured above) was knock-it-out-of-the-park outstanding.
I really wish more Broadway shows would take its original casts on tour. It's a real treat for audiences who can't get afford to go to New York City and check out Broadway on a regular basis. Hopefully the touring success of If/Then will be the motivation producers need to get this ball rolling!
If/Then is currently playing at the San Diego Civic Center. For tickets and show times: BroadwaySD