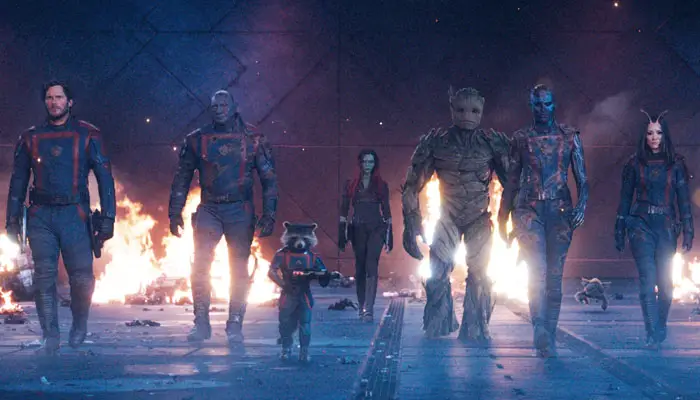 James Gunn's Guardians of the Galaxy Vol 3. is a fitting conclusion to a terrific trilogy about a band of superhero misfits. It's got everything you've come to want and expect from the film; humor, epic action pieces and especially for this one, lots of heart. Expect tears to flow.
The cast – Chris Pratt as Peter Quill, Zoe Saldana as Gamora, Dave Bautista's Drax, Karen Gillan as Nebula, Pom Klementieff as Mantis, Vin Diesel's Groot, and Bradley Cooper as Rocket Raccoon – has been together for over ten years now and their chemistry is better than ever.
The film picks up where last Christmas' Guardians of the Galaxy Christmas Special left off, with the Guardians, and especially Quill, still reeling from the loss of Gamora. When out of the blue comes a golden menace, Adam Warlock (Will Poulter), who is searching for Rocket. The team fights him off but not without consequences. We soon discover the secrets of Rocket's origin, his ties with The High Evolutionary (Chukwudi Iwuji) and why they now have to travel to a planet that's much like Earth to battle the new villain to save their furry friend.
One of the things I always wanted to know was Rocket's backstory. How did a raccoon become a walking talking sarcasm machine? How did he become the soul of the Guardians? The film answers these questions and more, as we learn that the High Evolutionary experimented on various animals and gave them intelligence and abilities. Rocket's past is dark, tragic and sad, and you come to understand how he morphed into what we now know him to be.
I'm going to miss Gunn's unique perspective on the Marvel Universe and I'm especially going to miss these characters. He not only created the best superhero team out there, with characters that we can root for, but I would arguably say he created the best trilogy.
That being said, there was really only one thing that was kind of iffy for me and that's Warlock. Growing up reading the comics, I always imagined him as a stoic no nonsense character. An alien who was, from what I remember, mostly humorless and matter of fact. Here though, he's played as almost a child, a rebellious mama's boy to Ayesha (Elizabeth Debicki). It's no fault to Poulter, because I'm sure that was what Gunn wanted him to bring to the role but still it's definitely not what I imagined.
But what really makes the film special is its heart. The Guardians are a family. It's about friendship – always has been – and finding acceptance and love, even when you're not looking for it.
I'm going to miss these guys.