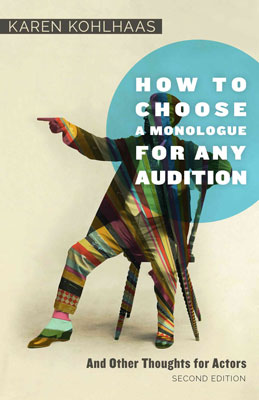 Finding a good monologue has always been the one thing I've hated about being an actor. We (I) want it to encompass so many things; I want it to be smart, funny, under-performed and short for one. And finding something so perfect has been a challenge to me over the years.
That's one of the reasons why I started our monologues section. I wanted to help my fellow actors and make it easy to find a good monologues. And I'm betting that's one reason why Karen Kohlhaas wrote and updated her book, How to Choose a Monologue for Any Audition and Other Thoughts for Actors because after reading it, she gets that frustration too.
Kohlhaas is a director and founding member of the famed Atlantic Theater Company alongside David Mamet and William H. Macy, so you know she's a person to listen to when it comes to this info.
"Actors have more creative control over their audition monologues than they do over any other part of their career," she writes. And that's true but again, that falls back to what I wrote earlier – we have so much control that it's hard to make a decision on our monologues.
But here's where Kohlhaas helps out. She's made the book easy to read, breaking down every detail to finding the elusive monologue. Her goal she says is to help you out so that finding a monologue is actually fun.
The book begins with helping find your type and asking what kind of actor you are, how to play to your strengths when choosing your audition piece. It then goes into the basics of choosing a monologue and how to find and recognize a good monologue.
My favorite section though is called, What They Do and Don't Want to See. She interviewed and got the opinions of 19 "industry professionals" (casting directors, directors, etc) and asked them all 11 questions regarding monologues: Should they be age-appropriate, do they mind if they have profanity or graphic subject manner and more. It's always nice to peek into the mind of the people who are doing the hiring so out of all the valuable insight, this was by far the best.