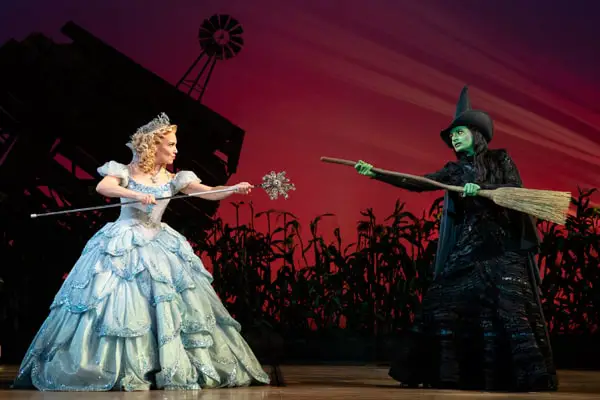 Wicked, which had its Broadway premiere 15 years ago this week, is showing no signs of age. In fact, it feels even more relevant than ever.
Directed by Joe Mantello, the show, which is now playing at the Civic Theatre until November 25th, is full of bright colors, splashy choreography (Wayne Cliento) and a top notch cast from Jackie Burns as Elphaba and Kara Lindsey as Glinda, to Jody Gelb (Madame Morrible), Jason Graae (Oz), and Jon Robert Hall (Fiyero).
As the story goes, Elphaba meets Galinda – she doesn't go by Glinda yet but we'll get there – when they're forced to become roommates at school. Galinda, is bratty and well, you know, 'Popular'.  Elphaba is the exact opposite: strong and determined. She's spent most of her life caring for her disabled sister Nessarose (Mili Diaz) and feeling alienated from her father because of her skin. When Elphaba gets into some trouble at school, Galinda finds herself sticking up for her roomie and the two become friends.
And now the show becomes really fun. Written by Winnie Holtzman with music and lyrics by Stephen Schwartz, we get introduced to the backstories of the Tin Man, Cowardly Lion and Scarecrow. How did those evil looking monkeys sprout their wings? And why does water hurt Elphaba? Everything in the musical takes place before, during and after The Wizard of Oz and it's always a treat piecing together the whole story as you're watching it or on your way home.
Burns is Broadway's longest-running Elphaba and it definitely shows. She's made the role her own and she's terrific. Just wait till you hear (and see) her belt out 'Defying Gravity'. Lindsay is wonderful as well. She's able to squeeze out a laugh from any line and even her entrances and exits are good for more than a few laughs. When the two are on stage together, it's just a treat.
There's several parts of the show that look like it was written today. One example is when their professor, Doctor Dillamond (Chad Jennings), is escorted out of his classroom because of his teachings, you can't help but think of what is going on in the country right now. It's sad, especially when we learn what happens to him. But hopefully, like on stage, we will all get a happy ending.
Now, get yourself off to see the Wizard!
Wicked is playing at the San Diego Civic Theatre through Sunday. For more info: Broadway San Diego