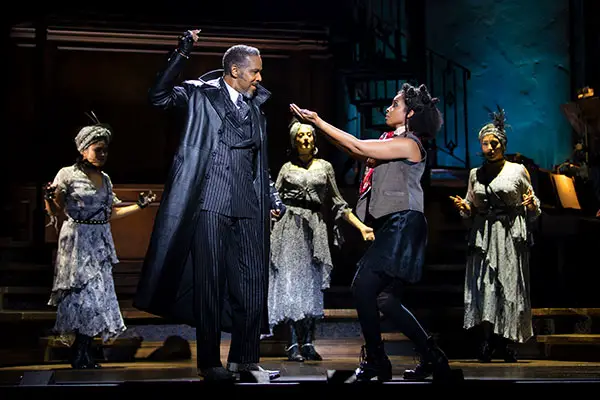 Andre De Shields, the 76 year old Broadway star who originated and won a Tony Award for the role of Hermes in Hadestown, had his final performance last Sunday, right as the touring company pulled into San Diego this week. He had been with the show since 2019 and it's no wonder he stayed so long because it's a wonderful show.
With a book, music and lyrics by Tony Award winner Anaïs Mitchell and directed by another Tony winner, Rachel Chavkin, the story follows the ancient Greek myth of Orpheus (Chibueze Ihuoma at our performance) who descends to the underworld (Hadestown) to rescue his new love Eurydice (Morgan Siobhan Green). It features a cast of characters, including Hades (Kevyn Morrow), his wife Persephone (Kimberly Marable) and of course, Hermes (Eddie Noel Rodríguez at our performance), the narrator of the show.
Morrow as Hades just oozes with charm and his deep baritone voice fills the theater. Ihuoma, understudying Orpheus, came into the role and knocked it out of the park. And Green's Eurydice is funny and vulnerable and her rendition of the song, 'Flowers' in Act 2 was incredibly beautiful. The rest of the cast has to be mentioned: Belén Moyano, Bex Odorisio, Shea Renne, Lindsey Hailes, Will Mann, Sydney Parra and Jamari Johnson Williams. And let's not forget the swings because as we've learned with the pandemic, without them, the show cannot go on: Kimberly Immanuel, Alex Lugo and Nathan Salstone.
And equally fierce is the music. Songs are layered with these harmonies that are so intricate, and exquisite and even, at times, haunting.
The set, which has a French colonial vibe you'd see in New Orleans, was designed by Tony winner Rachel Hauck and fits perfectly with Tony nominee Michael Krass' costumes.
The show won eight Tony Awards for the 2018-19 season, and it's easy to see why. The talent on both on stage and off is fierce, man.
HADESTOWN is currently playing at the San Diego Civic Theatre through June 5th.
For more info and tickets: Broadway San Diego