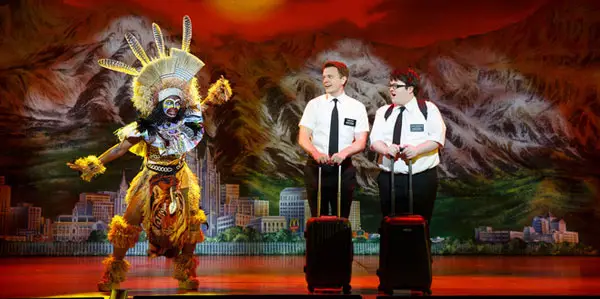 There are three types of people: those who've never seen The Book of Mormon but really want to; those who've seen it; and those who've seen it and want to see it again.
Actually, there are four: those who never want to see it because it might be too offensive. We'll just ignore those people because, quite frankly, they should be ignored.
I fall into the 'those who've seen it and want to see it again' category.
I was lucky enough to see the show with its original Broadway cast and was honestly skeptical that the new set of actors wouldn't be able to match those of the original. But, as I watched it last night at the San Diego Civic Center, holy crap was I wrong. They were fantastic!
The show tells the story of two young missionaries, Elders Price (David Larsen) and Cunningham (Cody Jamison Strand), who are sent to a lovely village in Uganda – and by lovely, I mean horrible – where they are tasked with converting the villagers to Mormonism.
Thankfully for the audience, that's not going to be easy, what with all the AIDS, poverty and violence (courtesy of the local warlord).
Written and composed by South Park creators Trey Parker and Matt Stone and Avenue Q's Robert Lopez, The Book of Mormon skewers religion, race and sexuality and is one of the best musicals of the past 15 years. It's got everything all the great musicals have: show stopping dance numbers, powerhouse songs you'll be singing on your way home and an even a good old-fashioned uplifting ending. Plus, it's absolutely hilarious.
Larsen and Strand are terrific. Larsen's Elder Price is enthusiastic and dedicated with a touch (ok, huge) amount of self-importance. Strand's Elder Cunningham, is a socially awkward but well-meaning teddy bear.
Another stand-out is Pierce Cassidy as in-the-closet Elder McKinley. He's hilarious and there are times you can't keep your eyes off him.
The Book of Mormon is one of the funniest shows you'll ever see. It's definitely a new classic that's a must see.
The show is currently playing in San Diego through June 8th. for tickets, click here.