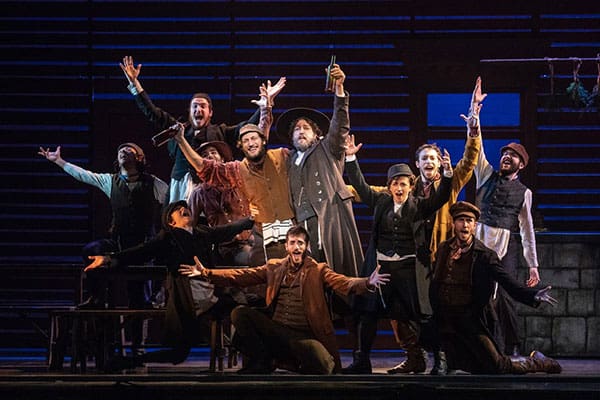 Fiddler on the Roof, one of the greatest musical ever written, has come to town and it's definitely worth checking out.
The original production, written by Joseph Stein with songs composed by Jerry Bock and lyricist Sheldon Harnick, premiered on Broadway in 1964. Since that original run, it's been revived on the Great White Way another five times and playing a total of over 3,000 performances. Every word of dialogue and every note of every song from the show is absolutely perfect and director Bartlett Sher's version does nothing to diminish that. He brings nuance, humor and tension to the story of Tevye (Yehezkel Lazaroff), his wife Golde (Maite Uzal) and daughters.
Tevye, who likes to think he's the one in charge of the household, spends most of his time dealing with the strong women in his life. Especially his three oldest daughters: Tzeitel (Mel Weyn), Hodel (Ruthy Froch) and Chava (Natalie Powers), who are scurrying traditions (Tradition!) and finding mates on their own. What's worse, he's not thrilled with their choices: the tailor Motel (Jesse Weil), bookish Perchik (Ryne Nardecchia) and the Russian Fydeka (Joshua Logan Alexander). All while he, and the rest of the village, must deal with the coming edict that will forcing everyone to leave their homes.
Lazaroff is a wonderful Tevya and he immediately wins you over the moment he appears on stage. And his rendition of "If I Were a Rich Man" does not disappoint. Froch and Nardecchia make a great pair as does Weyn and Weil. As couples, they feel complete and lived in. And Weill has some very funny moments.
The show runs a bit long, almost three hours, but with sets by Michael Yeargan, costuming by Catherine Zuber and some good performances there is never a lagging moment.
Fiddler on the Roof is playing at the San Diego Civic Theatre through Sunday. For more info: Broadway San Diego