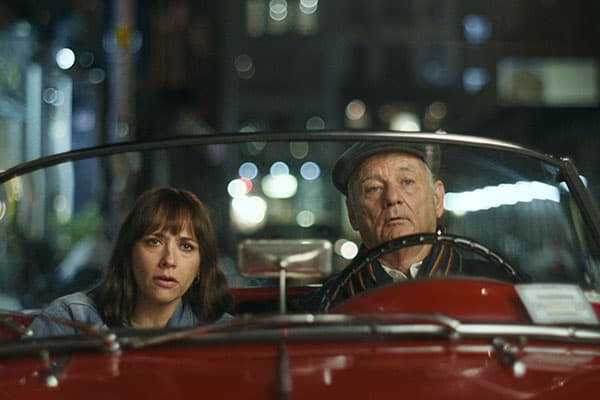 This year has been terrible for a lot of reasons that I'm quite sure no one needs to you remind you about. But thankfully, there have been at least a few bright points: most of us have gotten to spend a lot more time with our families, the new Taylor Swift and Bruce Springsteen albums are pretty darn good and we've finally gotten the first great movie of the year, Sofia Coppola's On the Rocks.
Rashida Jones plays Laura, a young mother living in New York City. She's continually busy carting her kids to school and back, while in between, trying to finish a book that's on deadline. Her husband, Dean (Marlon Wayans), is mostly absent, trying hard to make his start-up a success. She soon begins to think, after a series of 'why did he do this?' moments, that Dean is cheating on her. When her man-about-town father, Felix (Bill Murray), arrives back in town, the two begin tailing Dean all over New York (and beyond).
Murray is so great here and it makes sense, since Coppola directed him in Lost in Translation, one of his best roles. His Felix is almost like older versions of his characters in Meatballs or Stripes. Those were full of manic energy while still being grounded and human. While still wanting to contribute to the greater good of the people he cared for. Felix just wants to live life to the fullest, even while doing all he can to figure out if Dean is cheating or not. I mean, why not make the stake out fun, right? And when he's with his grand-kids, he's all about them. Total focus on them having the best time with ole' granddad.
He and Jones, together for most of the film, are just wonderful together. Their back and forth banter, her rolling of eyes as he spouts off his nonsense that she's no doubt heard a hundred times are just some of the things that make this film so terrific.
I don't want to leave out how funny and wonderful Jenny Slate is too. She plays Vanessa, Laura's "friend" and fellow mom. They see each other every morning and afternoon at school and every time, Vanessa has some story that she drones on about, not caring if Laura is listening or not. We all have a friend – friends? – like that and Slate nails it.
Coppola takes her time with the story and never pushes it forward unless it needs to. She's created a relationship between father and daughter where, no matter when one gets fed up with the other, through it all, there's not a moment that you don't feel that they love each other.