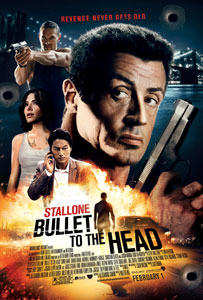 I have to admit, I wasn't expecting much from Bullet to the Head, the new Sylvester Stallone film about a New Orleans hitman who reluctantly teams up with a detective (Sung Kang) from Washington D.C. to rid the town of its big bad (Lost's Adewale Akinnuoye-Agbaje).
The film, based on Alexis Nolent's French graphic novel and directed by Walter Hill, is completely ridiculous. You know exactly what will happen and how the film will end. Co-star, Kang is a mediocre actor at best and Christian Slater is doing the best Christian Slater impression ever.
At one point, Stallone is running on a metal railing, high above a pack of men shooting at point blank range and they all miss him. He doesn't even get a scratch!
Like I said, this movie is ridiculous!
But, you know what? I really liked it.
It reminded me of the 80's action films I was so addicted to when I was a kid, a couple of which Hill directed. Though not as gritty and serious as Hill's 48 Hours, the look and feel did remind me of it. Stallone has his usual witty one-liners and even for a guy his age, he's in full on 'don't f with me' mode. The film is a totally enjoyable, leave-your-brain-at-the-door flick.
The film is also helped out tremendously by Jason Momoa (Conan the Barbarian, Game of Thrones). Momoa plays  Akinnuoye-Agbaje's right hand thug and he's great as usual. Why this guy isn't a huge action star, I have no idea. He goes toe-to-toe with Stallone not only in fighting but in funny quips and he kills – literally – them both.
You'll also see Sarah Shahi in a role totally different to what she's played on TV. It's a thankless part but with what she was given, she couldn't have done a better job.
Don't go to the film expecting to see the world's greatest action flick and I think you will be pleasantly surprised.