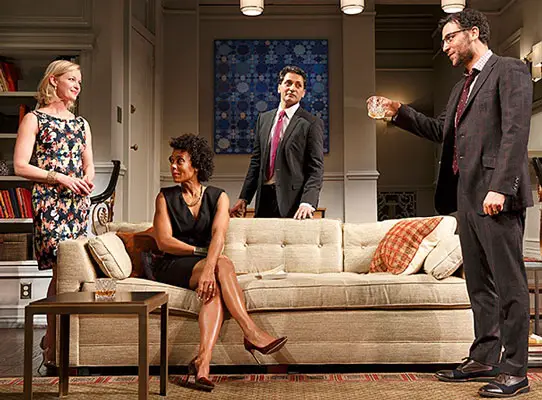 If you put an ex-Muslim lawyer, an African-American lawyer, a Jewish art curator, and a WASP artist who primary works with Islamic themes in her art together at a dinner party, mix with a few cocktails and professional stress, and then bring up religion and politics, well, you can guess what might transpire. Or maybe what transpires will surprise you, as in Ayad Akhtar's Disgraced, which is now running on Broadway at the Lyceum Theatre after successful runs in Chicago and Off-Broadway and Off West End.
Amir (Hari Dhillon) is a highly successful New York City lawyer who changed his name to one that sounds Indian to hide his Muslim upbringing. He no longer practices the faith, much to the disappointment of his artist wife Emily (Gretchen Mol). Emily is something of an Islamophile, and it isn't clear if she's attracted more to her husband or to her husband's cultural background. She speaks far more highly of Muslim culture than her husband, and she uses her influence on him to convince him to lend legal support to an imam who has been arrested on charges that he has been raising money for terrorist groups. Emily hopes that by supporting the imam that Amir will become closer to his nephew Hussein (Danny Ashook), who has begun to similarly hide his Muslim identity by adopting the name "Abe" but still is concerned about the imam's arrest. In the meantime, an art curator named Isaac (Josh Radnor), whom Amir met through his co-worker Jory (Karen Pittman), who is Isaac's wife, becomes interested in Emily's work. However, when Amir's connection to the possibly radical imam is revealed, it puts both his work and home life in jeopardy and dregs up his long-buried feelings toward his religion and its role in his life.
What most surprised me about Disgraced is how funny it is — if you roughly divide the play into thirds, there's about a half-hour of great comedy sandwiched between a the dramatic first half-hour and the closing half-hour. Obviously the inclusion of sitcom star Josh Radnor suggests that Disgraced is comedic, but I still wasn't expecting the opening salvos of the dinner party to be so funny. As with other works that go from funny to serious to shocking, the slow burn from comedy to drama during this middle section is extremely effective at making the audience feel the boiling tension in the room. By the tenth minute of the argument between Amir an Isaac, you realize someone should've excused themselves from the conversation five minute prior.
I don't really have to praise the content of the play — Ayad Akhtar won the 2013 Pulitzer Prize for Drama for it, and that says more than I ever could — but I applaud the fact that Disgraced jumps right into the ugly middle of bigotry, politics, and fear. It would have been easy for Akhtar to simply say that Islamophobia is wrong in any form, but through his characters he reveals that there is justification for people feeling this way (though obviously not to the point of wrongful religious persecution — to be fair, we never find out if the imam was guilty or innocent of the charges). But what I will praise is the cast. Dhillon and Ashok reprise their roles from the London production, and it's not difficult to see why. Both play conflicted very well, and despite the distance between uncle and nephew there is an obvious warmth between them. Jory is perhaps the smallest role in the play, but Pittman brings a big personality to the role and it's also not a surprise why she returned after playing the role in the 2012 Lincoln Center production. TV stars Radnor and Mol obviously bring some star power to the production, and both are great.
Director Kimberly Senior also has a long association with the play — she directed both the Chicago and Off-Broadway productions. The staging of the characters on set to mark their emotional distance with physical distance, and the cast's delivery leaves the right amount of pause to allow the audience to consider their words before the next character speaks. Staging an argument can easily descend into on-stage chaos, but Senior obviously knows the play intimately enough to know how to best portray the material to the audience.
Also, I don't normally praise sets, but the Upper East Side apartment set designed by John Lee Beatty was so comfortable-looking I was ready to move in. I wouldn't even care if I had to vacate it every night for performances of Disgraced, even though I think it will be running on Broadway for quite some time.