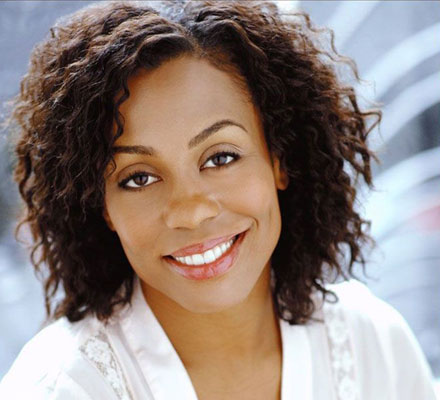 Disgraced, Ayad Akhtar's Pulitzer Prize winning play, has made its way onto Broadway's Lyceum Theatre after successful runs at Lincoln Center and on the West End. The show, about a successful Muslim-American lawyer and his wife who host a dinner party that "starts out as a friendly conversation escalates into something far more damaging," stars Josh Radnor, Gretchen Mol, Hari Dhillon, Danny Ashok and Karen Pittman, who is reprising her role as Jory.
She last played the role during its run at Lincoln Center and she said she's loving this experience just as much as her first go round. "As an actor, you certainly don't get the opportunity to do a role like Jory," she told me recently.
In the interview below, I asked her what is was like to return to the role and how it's different now that it's on Broadway, why she transitioned from a flourishing music career to become an actress and the embarrassment of dance auditions.
Follow Karen on Twitter!
For the full interview, click the audio link above or download it from iTunes.
You're reprising your role. Did you think you'd ever come back to the part after you finished its initial run?
Karen Pittman: I absolutely did. And I think that was because just the play had such a positive effect on me as an actor. I had a great working relationship with Kimberly [Senior, the director] and I have a great admiration for Ayad.
And as an actor, you certainly don't get the opportunity to do a role like Jory where she's just very together, she's very smart, she has a very clear arc as a character. So as an actor your work is, you know, very clearly laid out for you. And you didn't, you know, play a lot of different notes in a character and have an interesting journey through the play in a part like that.
So I was very interested in bringing that role back and just interested in Ayad as a playwright because he's, you know, very smart, intelligent, funny.
How did you find out that the show would be coming back again?
Karen Pittman: There's so much work to get a show to a Broadway venue.
Oh, really?
Karen Pittman: Oh, yeah. Lance, every show you do off Broadway… I did a play called Domesticated last year with Bruce Norris and I did a play, a world premiere play, of a Heinrich von Kliest play this last summer. And every play that you know has merit and is a wonderful working experience, you think to yourself, "Woah, this is gonna go to Broadway and I wanted to go." But, you know, truly it's a daunting task for the producers to put that together and to find a theatre.
But, yeah, I was very, very excited to be a part of that whole… I think it really was like a 2, 3 year process. Finding the right theatre, finding the right investors, the right actors, the right, you know, set design artists, costume design artists who were available to do it.
Is there a different vibe from when you did the show… you did it at Lincoln Center, right?
Karen Pittman: Yes, I did.
Is there a different vibe from doing it there to doing it now at the Lyceum?
Karen Pittman: Yes, Lance, because… really the vibe has been the… the vibration is in the audience. Where we were doing it at Lincoln Center there's like 110, 120 people in the theatre, now there's like 800, 900 people.
So the funny moments are much funnier, the timing is much more specific with a laugh line. You know? The heavy moments are much heavier. If the audience doesn't expect something, they're vocal about it and the vocal response goes on and on. Do you know what I mean? It's a much bigger experience.
When you went back into the rehearsal room, at least for the first few days, do the lines automatically come back to you?
Karen Pittman: It's so amazing. Yes. It's so amazing. But because the other actor is different… I'm the only actor from the Lincoln Center production that came back to this production, but there are two actors from the London production who came over to do it here. So if you're reading it with a different person then, of course, you're response is gonna be different. So I of course heard the line in my head as the other person was giving me their line, but when it came out of my mouth it was automatically different because I had a different person to speak it to and their energy was coming in a different way.
I mean, I think as an actor your instrument has to be quite responsive in that way, right? Hopefully you're hearing it differently every night no matter what, but obviously you can hear it differently if it's coming out of the mouth of a different person.
I'm working with Josh Radnor in this part and his experience in comedy, you know, he's been on a TV show for 8, 9 years. So he's very, very quick with the comedy and the humor and it's quite fun working with someone who has a level of experience that he has. So lines are even funnier working with him on them.
I think two years have passed since you did the role last?
Karen Pittman: Yeah.
And I can only imagine you've just completely grown as an actress. So what is it like to reprise the role? Are you able to mine more things and more nuances than you were last time, you think?
Karen Pittman: Yeah. I think… there were a couple of tweaks to the script when the play went to London. So the script that we have now is a little bit different from the script that we had a Lincoln Center. Not much, but it did grow in a very specific way as far as the relationships that are explored.
One of the other challenges is the work that you did as an actor on the play, that I did on the play in 2012, I can see, "Oh, there could be something deeper here for Jory that I didn't really see at that time." And how do I create a real human being on stage based upon this new information?"
Obviously as an actor your job is not just to create an interesting character, but to create a truthful reflection of who we are as human beings so that a person can see that and think, "Oh, yeah I know someone like that," or, "I've done that thing before. Do you know what I mean? So it does require that you're constantly mining through the script in a truthful way and there's a lot of new stuff and a lot of new vulnerabilities in Jory as a character that I've been able to sort of source with the new material that Ayad has put in the play.
How did you initially get the part?
Karen Pittman: Yeah. Like any actor, I got the script through my agent and I read it and I thought, "Oh, this is a good script."
Did they give you the whole script or just your sides?
Karen Pittman: I don't know how much acting you do in theatre there in Los Angeles, Lance, but here in New York you will typically get the entire play.
That'd be great.
Karen Pittman: Yeah, I know. Right? In TV, they're very closed off with the scripts as far as TV is concerned because there's just so much they wanna put out there. But in theatre they give you the whole script because they really do want you to understand the arc of the character and arc of the play.
I read the play all the way through and it's a really incredible story. And so then I went back and read my part and I thought, "Well, this is a very interesting character." To be an African American in a play where you're talking about race and identity and you are not the center of that conversation as an African American is a brand new thing, Lance.
It's a brand new journey as an actor to be in a play where the conversation about race and identity is about the other… the other brown person in the play. And I thought, "This is 21st century post racial society situation."
And we were at the very beginning of the second term of President Obama. He had yet to be voted into office for a second term. So there was quite a lot of, you know, interesting, you know, social stuff that was going on at the time when I got the play, so it was very interesting to me to sort of go in and audition for this part.
And I met the director and I met the playwright and I'd had a relationship with Lincoln Center that had gone back about 4 or 5 years. I happened to work as a reader for their auditions for the incredible casting department there with Daniel Swee and Camille Hickman. And I had been in readings and, you know, had done small parts and just sort of anything that could make me avail myself of this really wonderful, American institution that is Lincoln Center Theatre.
So when this part came up I had already established a relationship with the theatre and the director and the playwright and the casting director really liked me a lot. So I got cast in the part.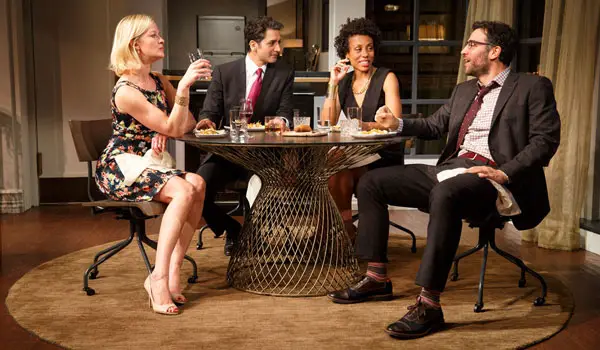 You grew up in Mississippi?
Karen Pittman: I was born in Mississippi. I stayed there for a couple of years before I moved to Nashville, Tennessee.
So how did you get from there to New York? Besides driving, of course.
Karen Pittman: Right, besides driving! From Nashville, I went to Chicago and went to school at Northwestern University in Evanston, Illinois where I studied voice and opera.
I, of course, wanted to go into the music industry and be a singer. And I ended up doing a lot of that in Chicago with the dance music and met a bunch of producers and very successful and famous folks. And I eventually met one producer who said to me, "If you wanna make it, you're gonna have to go to New York."
And I'm known in my life as a risk taker. That's one of the things that I typically will… that's one of those things that I'm known for, famous for, is I'm one of those people that's like, "Oh, something has to get done? And no one else can do it? I'll take it. I'll take it on."
So I got in my car and put my cat in the back seat and all of my possessions and had visited New York City once before to make sure I had a place to stay. I became an au pair and that started my journey as a New Yorker.
What was your first acting gig in New York?
Karen Pittman: That came many, many years later. I worked in the music industry when I first came to New York City. I was a singer. But I got very disillusioned working in that, Lance, because at the time it was very corporate. Now it's even more so corporate. But I really wanted an avenue to self-expression to a purposeful, meaningful, artistic life. And I had lots of money and a great life, but I was miserable. I was miserable.
So I left all that and auditioned for grad school and got into NYU, graduate acting in 2004. And I started my career as an actor in 2007. So literally 4, 5 years as a musician, singer and that sort of thing in New York and then I graduated from NYU in 2007. So it took me a good, you know, 7, 8 years to get into acting. But once I did, yeah.
Yeah, I think you're pretty successful at it. I'm not gonna lie. Just a feeling I have.
Karen Pittman: It's funny because it isn't my first career. Right? It's actually my second career. And in between there I've had 2 children. I'm a single mom now and it's probably been the most exhilarating ride of my life, being an actor and figuring out how to juggle it and make it work. I'm having a great time.
What is your worst audition?
Karen Pittman: My worst audition. Oh, I just blank those out of my mind. No, my worst auditions ever are those auditions where I've, you know, you go in, you sing great, you have a great read, and then they're like, "Ok. And the next part of the audition process is the dance call." And you're like, "What?" And I can dance, I mean, I've studied dance, I'm a good dancer, but the whole dance call audition stuff is just like your nightmare chorus line. You know? Any audition where I have a dance call and I have to keep up with choreography that I learned in 10 minutes is my worst audition experience.
What's your advice to actors?
Karen Pittman: I just feel so tricked out about giving advice because it's so… it's so hard being an actor. It's just so hard. All the advice comes out like judgment. Don't do this, don't do that, and you should. Best advice is… be gentle with yourself through the process.
Nice. I like that.
Karen Pittman: Yeah, that's all I got. Be gentle. Be kind to yourself.
Click here to get your tickets to Disgraced!