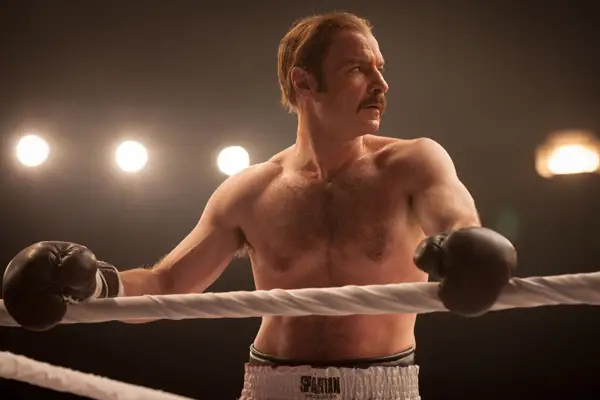 We don't have those old school, local heroes anymore. It used to be that someone gets a shot at a dream or does something fantastic, a city took pride in that. They adopted that person and they became a source of pride. With the internet, they're now in front of us for 24 hours and then they're out of our memory. But, back in the day, those local icons would never have to buy themselves a drink in their town again.
Chuck Wepner was one of those guys.
Liev Schreiber plays Chuck, a brawler and the pride of Bayonne, New Jersey. When the film starts out, he's looking for a job. It's 1975, he was the 8th ranked boxer in the world(!) but still needed to feed his family. He finds a job as a liquor salesman and uses his mini-fame to pump up the sales… and it also helps with the ladies, which is wife, Phyllis (Elisabeth Moss), isn't too happy about.
When his manager, Al (Ron Perlman), gets a call out of the blue to fight Muhammad Ali for a chance at the heavyweight title, things are quickly about to change. He goes toe-to-toe with Ali, lasting the whole fight and becomes such an inspiration that Sylvester Stallone bases his film, Rocky, on his story. Things are sure to get better.
Nope. That was his shot. No more offers come in and he's back to struggling. You never feel sorry for Chuck though. Schreiber has a way of playing him that you know he's somehow going to turn out OK. Despite all of the craziness and his downhill slide – the drugs, arrest and booze – in the end, you feel (hope?) that he'll be fine and you never stop rooting for him.
Directed by Philippe Falardeau and written by Jeff Feuerzeig, Jerry Stahl, Michael Cristofer, and Schreiber, Chuck isn't a sad take on a forgotten story. It's about the insanity of the American dream and what one person does to sustain that fleeting moment of stardom.
The film also stars Naomi Watts, Jim Gaffigan, Michael Rapaport and Jason Jones.