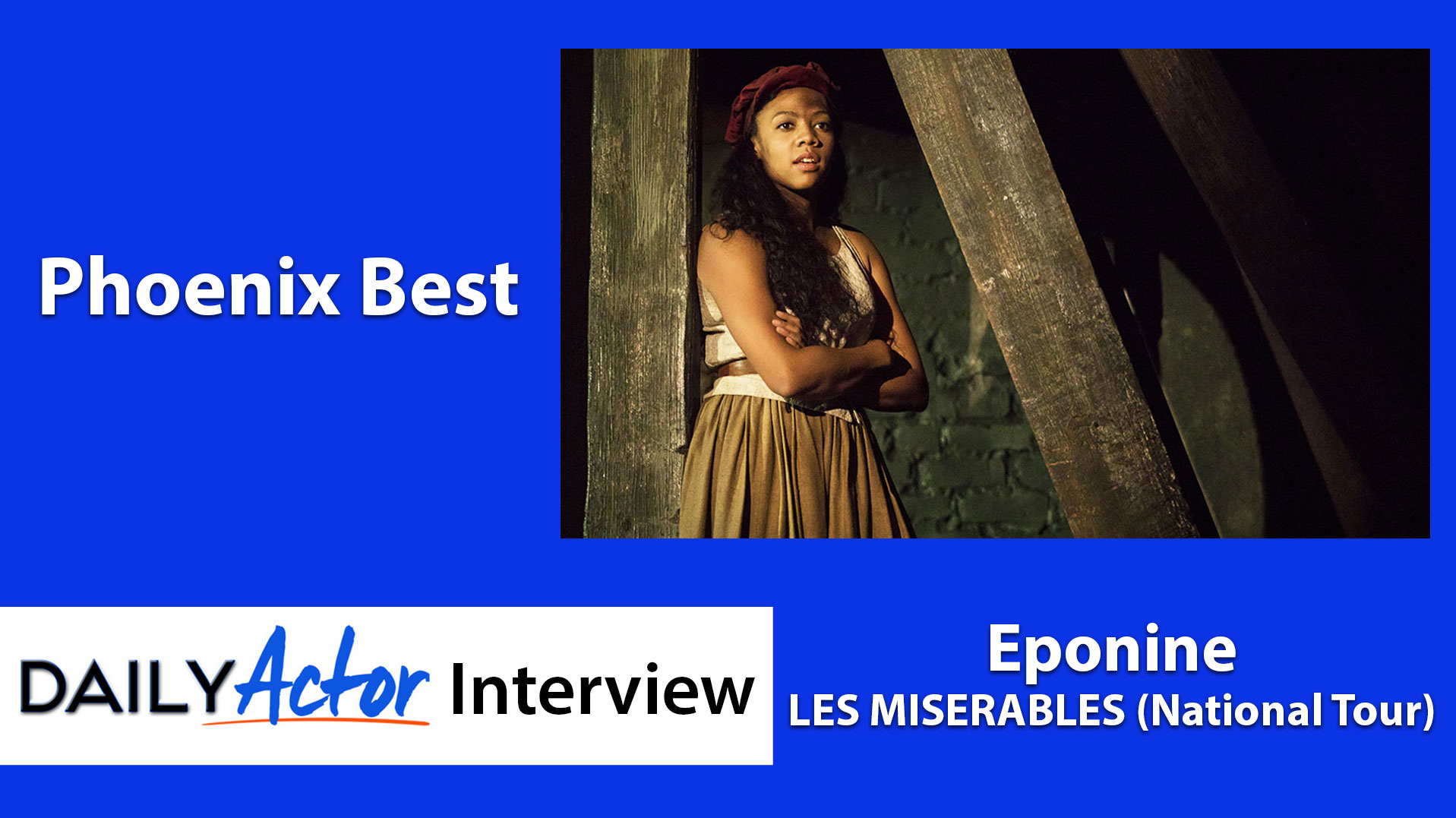 Eponine has "such a special place in my heart, and so I get so excited to get to do it each time and bring something new to it," Phoenix Best told me as she was about to return to the National Tour of Les Misérables for the third time. Best, who's also appeared on Broadway in Dear Evan Hansen and The Color Purple, is a powerhouse, so it's no surprise that they keep asking her back.
In this interview, she talks about Eponine and why she means so much to her, life on tour and how she keeps her voice healthy and performance ready. This interview is edited for length and clarity. For the full interview, check out our YouTube channel. For tickets and more information on Les Miserables: Broadway San Diego
Is this your second or third run in the show?
Phoenix Best: It is my third run as Eponine.
How long was it for each tour?
Phoenix Best: Funny enough, I have only done Les Miz in increments of four to four and a half months at a time. I was the original Eponine on the 2017 North American tour that launched, and then I left after those four months, and then I came back in November of 2019, and I did it up until the pandemic shut down, and then I just rejoined yesterday.
When you came back in, what's your rehearsal process? How long ago did you start rehearsing again?
Phoenix Best: I actually popped in while the company was in LA to learn the show a little bit and did stand by for a second as Eponine in case they needed me, and then once I knew the show out there, I went back to New York for a couple of weeks. And then I just jumped right back into the show after not being there for a few weeks. So yesterday was a little nerve-wracking having not been a part of the show for a couple of weeks, but I was excited, and it gave me a lot of adrenaline, just getting thrown out there and doing the show.
But Les Miz is the type of story that is so big and it's so vast, and it is like riding a bike after doing it all these years. But taking some time away from it, you have to get re-acclimated to doing the show. And yesterday, all of my prep going into the show was definitely helpful to calm my nerves, reviewing my songs, my blocking, and I felt really good about it.
I've played the same role a couple of different times, and it's always fun to revisit them, and to go back and tackle things that I never felt that I got quite right.
Phoenix Best: I find little nuances and little things that I did not notice the first time I did the show. I've been doing it since 2017, so there's so many years that have gone between and as a performer, I've changed. And the company has changed. This new company just began its second year of this tour yesterday, so it's a whole new group of people for the most part. Having a new group of people and having this new blocking and being a more advanced performer than I was when I initially started doing it definitely changes it.
I also just love Eponine so much. She has such a special place in my heart, and so I get so excited to get to do it each time and bring something new to it.
You've got some songs that are, I would say vocally challenging. How do you take care of your voice to keep it strong?
Phoenix Best: Lots of sleep, definitely. Working out is a huge part of that. Regaining my stamina, because the other part of this that I don't think a lot of people know, unless you come to see it, is I'm singing a lot, but I am also running around either on stage or backstage, so it's a lot of physical endurance on top of that. I think training outside of being on the stage is super helpful, getting a lot of rest, water.
I have like my little things. At intermission, I will always make a hot lemon ginger tea with a little Ricola in it. That's like my little special cocktail for Eponine, and I drink that at intermission, so that when I have to sing 'On My Own' and 'Little Follow Brain' right after, I just feel a lot better.
I wanted to ask about how you got started. I read that you graduated college and then you moved to New York and like a month later you booked your first Broadway show? That's amazing.
Phoenix Best: Yeah, yeah that is true. Honestly, I really did not think that was going to be my story, and I'm so thankful that it is. When I moved to New York, I knew what New York was. I knew that I had to get my face out there, I knew I had to audition, I knew I had to hit the ground running, and I didn't care how long it was going to take me. And honestly, when I found out I had booked my first Broadway show, I was shocked. I had just signed with agents like the day before, and I had just called them to be like, "Hey, can you get some feedback for me from the audition?" It was my first really big thing, or one of the first and I wanted to get some feedback. And I had gone in for another show too, so I was getting feedback on both of them. And they were like, "We're so sorry you didn't get this other show." And I was like, "Oh okay, no worries, no worries." And they were like, "But let us put you on hold for a second." And then they put me on hold and then came back and said, "Everyone's on the phone right now to tell you you're making your Broadway debut." I was like, "What is going on?"
When you were living in Philadelphia, I saw that you were selling tickets to Les Miz?
Phoenix Best: Yes, back when I was in college, I worked at Ticket Philadelphia selling tickets to the shows at the Academy of Music, the Man Center, the Miriam Theater. It was my summer job and also my winter job when we were off of school. During that winter break, Les Miz had come to the Academy of Music that year, and it was the first time I ever saw Les Miz and we got tickets through the company to the show, so I brought my mom and sister. They had never seen it, and I remember seeing the show and being like, 'I love this show. I wanna play Eponine one day.' And then I got a chance almost five years to the day to get to play Eponine at the Academy of Music with my family in the audience once again.
What's been your worst audition ever?
Phoenix Best: Oh my gosh… Let me think. It was like my second week in New York, and I got called in for the If/Then tour, and I had to learn this patter song. And if you know anything about music, a patter song, and learning it in two days, but still working your restaurant job at night and not having enough time to learn, I completely botched that audition. I don't think I said one word right. I don't think I had one melody correct. But I just went in there and I pretended that I had all the confidence in the world, and at the end of it, they were like, 'Thank you. Thank you for trying.' And honestly, that's all you really have to do for the most part, is you have to try, and even though it wasn't a successful try, I'm proud of myself.
What is the craziest thing that's happened to you while on stage?  
Phoenix Best: Well, one time in Les Miz we had to stop the show. Like right at the last little moment in the show because something automation-wise wasn't working. I want to say we had like four minutes left in the show, and we had to stop the show and then fix whatever it was, and then everyone comes back for the last big number and then we end the show. Like we make it two hours and 53 minutes and we've only got four to go and then we've got to stop. But the audience was so amazing when we did rejoin. They were super understanding and super responsive, and it was amazing.