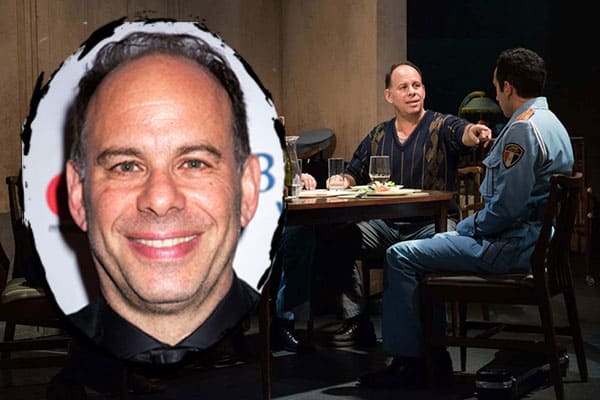 "If you were to say, "Hey, you're going to be a principal in a Tony Award winning, Grammy Award winning musical on Broadway," I would be laughing at you. Because that would be so far away from where I thought things were going." – Andrew Polk
Shooting a TV show by day and rushing to the theatre in the evening has become a regular part of life for Andrew Polk. And even though it's exhausting, he told me that he "feels very lucky that I have all these different things going on."
Polk, who is currently starring as Avrum, a Israeli widower who hosts some of the members of an Egyptian band, in Broadway's Tony Award winning musical, The Band's Visit, talks about his audition for the show, making his Broadway debut, his TV work and preparing for auditions.
I guess the sad news is that the show is closing soon.
Andrew Polk: Yeah, it is sad. We had a nice run and kind of won every award. All shows close I guess but it will be a little sad.
If it kept on running, how long do you think you would've stayed?
Andrew Polk: Well, actually I was planning on leaving around now anyway.
So you're the reason it's closing!
Andrew Polk: It's me! I closed yet another show! I didn't want to tell them I'm the reason shows close.
I will have done it, including the off Broadway run, for the better part of three years. So, you know, I want to see if it's possible to play another role at some point.
Since you've been in it from the very beginning, how did it change from when you started the off-Broadway run? Was there any significant changes in your character?
Andrew Polk: Most of the changes happened when we were working off Broadway. There were some adjustments going to Broadway, but they weren't major. The biggest thing was we added a couple of musicians and adjusted ourselves into a bigger theater, obviously. We went from a tiny 200-seat theater to the Ethel Barrymore, to a thousand seats. And to try and maintain that intimacy when moving uptown.
We did a workshop before the off Broadway run, I think it was the summer of 2016? During that workshop, a lot of changes happened. I had another song, there were songs, there were songs added. Lots of dialogue was sort of added. I think one of the biggest changes is that there was a lot of improvisation that happened with the dialogue that Itamar Moses, the book writer, he really incorporated a lot of what we added in rehearsals into the actual script. And then, there's a lot of the musicians that we have, these amazing musicians improvised a lot of the music and that worked its way into the score. I would say those are the major changes.
I would think one of the coolest things ever would be to create a role on Broadway. Your name is forever going to be attached to this show. It's just something where you would just sit back years from now and just kind of smile.
Andrew Polk: I'm with you and I do feel that way. Especially since, I haven't done many musicals in my life. And so like three years ago, if you were to say, "Hey, you're going to be a principal in a Tony Award winning, Grammy Award winning musical on Broadway," I would be laughing at you. Because that would be so far away from where I thought things were going. So, I have extra smile. And you're right, it's been a great ride.
It's not a typical kind of musical that people are used to, it's very intimate. A lot of the people aren't sort of Broadway-belter types. So, it's just almost like an anti-musical in a way. And I'm absolutely pinching myself. It's a really fun thing.
This is also your Broadway debut.
Andrew Polk: It only took 30 years.
Leading up to that night was the experience… I guess all actors dream about their Broadway debut, but was it like everything you thought it would be? Or was it just like, "Yeah, it was OK." You know what I mean?
Andrew Polk: Yeah. I mean, having spent my career doing at great non-profit theaters and off-Broadway… not including the TV and film stuff, but the theatre I've done, on one level being in a Broadway show like that, it's not any different than any other show. You're still using the tools that you have to use and you still have to tell the story the same way.
But, I think there's a lot of noise that surrounds being on a Broadway show. For instance, we went from going off-Broadway where we shared… we had one dressing room at the Atlantic, which we shared with the band. It was an ensemble piece. It really is an ensemble piece. And we were all together in this dressing room.
And then you get to Broadway and then there's all stratifications and people have different contracts and have publicists. There's a lot of other things that go around with the event of Broadway. It's exciting, but on the other hand, it's just noise that has nothing to do with telling the story. I just remind myself, it's just same thing you always do. You know what I mean? You're trying to be trying to tell that story.
People do get excited about being on Broadway and that was really fun to see. The stage door afterwards, all the hundreds of people that wait every night to get their programs signed. I didn't know about all that. It's really exciting to see how many young people there are who just get so excited about seeing a Broadway show. I love it.
You have your days free most of the time. That's kind of cool, right?
Andrew Polk: I guess. It doesn't seem like it works out that way. I've been doing a lot of filming over the past eight months, so that's been a lot. And then you need to rest, you have to make sure you work out. You have to warm up. There's matinees on Wednesdays and Saturdays. So, a lot goes into sort of quiet work that goes into getting ready for show.
You're floating between doing theater, TV and film. The days that you are shooting something during the day and then you're heading to the theater, are you just wrecked when you're done?
Andrew Polk: Yes. Yes. It's so funny, because there were many times when I was shooting during the day and even though I could technically miss the show at night and let my understudy go on…. but there's a voice inside your head that says, "Wow, I'm kind of living the dream. I'm in a Broadway show and I'm shooting TV during the day. Isn't this what you want?" And it is. But then on the other hand, you're thinking, the dream is exhausting. But I did it and I've been doing it.
It's funny, before the Tony Awards happened, they were more restrictive about letting me out for television. I was shooting an episode of Mrs. Maisel and we had a wonderful director who was a theater director too. And he knew I was in the show. I was shooting it on the Upper West Side and he knew that I had to make curtain and there was no flexibility there. And so what he did was, because he's great and was sympathetic to my situation, he changed the exit of the scene I was doing to make it look like instead of sitting down, he made it look like I was exiting the deli that I was shooting in. Just to get coverage in case they actually had to let me go. And sure enough, they did. They went late and they changed the shot to make it look I was leaving the deli. And indeed, I left the deli, jumped in a car and went to the show.
You auditioned for the workshop of The Band's Visit?
Andrew Polk: I had a funny experience there. They wanted to do a reading of the book for Itamar Moses and they had a bunch of actors. So they asked me to do a reading of it. I knew it was for David Cromer who I have admired so much and I know Itamar, I think he's amazing. So, I went and I didn't even know it was a musical. And then there's this guy, balding guy in between each scene we read, hitting a 'play' button on a boom box, playing some song. And that was David Yazbek. And I'm thinking while he's doing that, "This is a musical, I think?" As we were finished, David asked me, "What are you up to?" And I told him I was doing some filming. He said, "Okay." And it seemed like they were interested in me and asked if I sang and I said, "Uh, sure." That's what actors say. You never say 'no.'
Next thing I know, I have an audition and then a call back and another call back. And they actually wanted me to play a musical instrument so I brought in my cello, which I play. And I played cello for David Yazbek. And then there was a fourth audition, where I was just in a room with the musical director, Andrea Grody, for an hour and she put me through my paces. She gave me every vocal exercise you can imagine. I just felt like they were just kicking the tires, you know? "Can this guy really do a musical?" And when I got it.
You're also on Billions this season?
Andrew Polk: Yeah. I'm doing Billions. I did Mrs. Maisel and I'm coming back to do more of those. And also this show, Instinct, on CBS. And I just started a recurring role in a new Showtime show called, City on a Hill, with Kevin Bacon.
When the show actually does close, you're not going to be pounding the pavement for a little bit.
Andrew Polk: Well, I feel very lucky that I have all these different things going on, absolutely. I always feel like I'm pounding the pavement even though, you're right, that there are certainly things keeping me busy.
When you get an audition, what's the first couple of things you do to get as prepared as possible to get the job?
Andrew Polk: Well, you mentioned the big word, which is 'prepared.' I do try to be as super, super prepared. I think it's different for television, I've found. There's a different energy I need to bring in for me to do that kind of work. The first thing I do is I read the script if it's available. If it's not available, I just get to those sides and pick off maybe any given circumstances I can get, any clues I can hang my hat on to find my way in to this person.
And the next thing I do, especially with TV and film, I really try to find the style of the piece. I find out who's involved in it. I try to get a sense of how I fit into the story their telling. Those are the first things I do. And then I make the strongest, truest choices I can.
What's been your worst or most embarrassing audition?
Andrew Polk: Well, how much time do you have? Well, I remember years ago, it was for a musical, I believe it was for How to Succeed in Business for Broadway. And my agent said, "This is an audition, there's a song and some sides. And just wear loose clothing because they just want to see how you move." I'm like, "OK."
I get there and this is directed by, I think, Rob Ashford, a renowned choreographer. And his assistant got us middle-aged guys together and said, "OK, are you guys ready? We're going to teach you the combination." And for two hours we had a dance call, like we were in frigging Chorus Line. And it was ridiculous. I couldn't get any of it but I tried because I'm an actor and I'm sad. I say I can do those things when I probably can't because I want to please people.
And anyway, I did it. I tried for two hours to get this. There was no way I was surround by actual dancers. And then Rob Ashford came in and said, "Okay, let's see it." They started the music and I literally just flail my arms and legs around to make it look like I knew what I was doing. And he looked at me like I was out of my mind, like I was crazy. I didn't get that job.
But I mean I got a lot of stories like that. Like the ones where they want you to learn 20-pages of sides. You're like, "Really?" Because you know you're going to get there and they'll say, "Just do the first scene." So you go and that happens to be the one day where they actually want to see all of the sides.
For Tickets and More Information: The Band's Visit