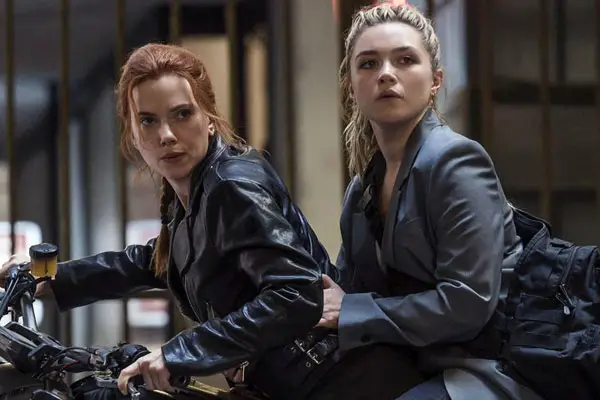 Over Black Widow's various appearances throughout the Marvel Universe, audiences never really found out much about her. Where was she from? How'd she start working for S.H.I.E.L.D? What the heck happened to her Russian accent?
Now, with the release of Black Widow, we finally get those answers. And while the film isn't a full on origin story, we do (finally!) find out how Natasha Romanoff became the hero we know, the hero we love.
Directed by Cate Shortland from a screenplay by Eric Pearson, the film opens in rural Ohio when young Natasha (Ever Anderson) and her little sister (Violet McGraw) are seemingly living an idyllic childhood: chasing fireflies, schoolwork and waiting for dad to come home from work before dinner. But, it turns out mom (Rachel Weisz) and dad (David Harbour) have a little secret: their Russian spies… and they aren't really a family, just a phony front to fake out the Americans.
Dad has just rushed home to tell the family to pack up. They've been made. They high-tail it to a secret plane and fly off to Cuba, where the young girls are taken away into a program that turns young girls into fighting machines. Basically, an army of Black Widows.
Cut to years later, after the events of Captain America: Civil War, when most of the Avengers have either taken sides with General Ross (William Hurt) and S.H.I.E.L.D or have been taken into custody. Natasha (Scarlett Johansson) has managed to evade Ross and is hiding away in Norway. She soon gets a mysterious package from her long-lost sister, Yelena (Florence Pugh) and away we go on another fun, Marvel'y adventure.
They two quickly reunite – Natasha being Natasha, she easily finds her hideout – and after very cool fight scene between the two, they decide to team up and take down the creator of the Widow program, a shady guy (is there any other kind) named Dreykov (Ray Winstone).
But, it turns out that her fake mom and dad have even more secrets they they originally knew. Dad was the Red Guardian, Russia's equivalent to Captain America. And Mom was Dreykov's right hand. And in order to take him down, they need to find them and work together.
There is a huge amount to like in the film, starting with Johansson and Pugh's on-screen chemistry. Both are terrific but together, they make the film 10 times more entertaining. Widow is much more fleshed out (and it's a shame it took so long to do) and Pugh's Yelena looks to be a huge (and welcome) addition to the MCU. Weisz is great, but it's Harbour who has the scene stealing part. His Red Guardian is coming to grips with his past – and present – and it's pretty fun to watch. I do wish Dreykov was a bit more developed though.
There are a lot of table scenes – where characters sit around a table and talk – and I'd imagine some fans might not like that. It does flesh out each character and is actually needed. These people – this "family" – haven't seen each other in years. Things need to be discussed! And, these are some of the best scenes in the film, to be honest.
And, like you have to be told, but stay in your seats till the end credits.