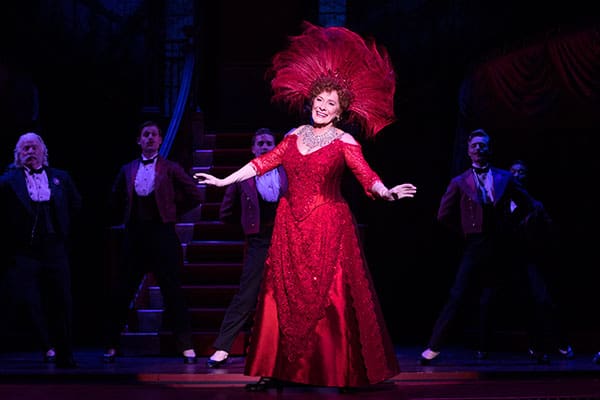 It's always fun to see a classic musical performed in this era. We get the modern sensibilities that each cast members brings not to mention the new perspective the director, the costume, lighting and set designers bring. So, along those lines, Hello, Dolly!, now playing at the Civic Theatre is definitely a treat. The cast, especially the young members, bring life and energy from the very start of production. And eye-popping costumes are so vivid you'll have to blink a few times for your eyes to adjust.
The musical is the touring production of the hit Broadway version that starred Bette Midler and Bernadette Peters as Dolly Levi. This version stars Betty Buckley, who seemed a bit low-key in the role. Perhaps she was sick but that still didn't diminish her star power. From the minute she walked on stage to her final bow, the audience was loving every moment they had with her.
The musical, written by Michael Stewart with music and lyrics by Jerry Herman, was directed by Tony Award winner Jerry Zaks, who keeps things moving at a nice, rapid pace.
Buckley stars as Dolly Levi, a matchmaker who's been tasked with finding Horace Vandergelder (Lewis J. Stadlen), Yonkers very own half-millionaire who owns the local hay and feed store, a second wife. Little does he know though that Dolly is actually plotting to make him her husband.
Meanwhile, Vandergelder's two young employees, Cornelius Hackl (Nic Rouleau) and Barnaby Tucker (Jess LeProtto), are fed up with the long hours and little pay they're being given. They close the store and head to New York City for the night, in search of girls, adventure and girls. There they meet Irene Molloy (a beaming Analisa Leaming), the owner of a hat store, and her assistant, Minnie (the hilarious Kristen Hahn). The two gentlemen pretend to be millionaires, flush with money but after opening their big mouths are forced to bring their dates to the most expensive restaurant in the city. And what you know it? That's where they run into ole Vandergelder and Dolly.
Buckley and Stadlen are lots of fun, especially in their scenes together. And even though Buckley didn't seem at full strength, she was easily able to bring Dolly to life.
But it's really the younger characters who drive this version of the show, especially Rouleau as Cornelius. He's supremely talented and seems to be able to turn any line into something laugh out loud funny. And he's a great singer to boot. LeProtto is a wonderful dancer who will impress you with his air-defying moves.
The musical numbers are delightful, especially 'The Waiters Gallop' number. And when Buckley descends the staircase for Hello, Dolly!, it's a nice moment, combining musical theatre royalty with one of the classic musical theatre songs.
Hello, Dolly! is playing at the San Diego Civic Theatre through Sunday. For more info: Broadway San Diego