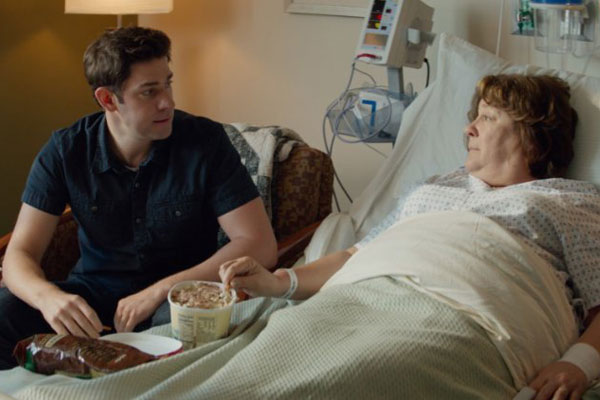 The Hollars, which premiered at this year's Sundance Film Festival, is the perfect festival film. It's quirky and cheery, full of wonderful actors and a lead character that has lost his way in life and has a story that turns dramatic in the final act.
It's something we've seen before, dozens and dozens of times, and in the hands of a less capable director and actors, it would have been a hard film to slog through.
The screenplay, written by James Strouse, is formulaic with some incredibly cheesy (and at one point cringe-worthy) moments but director and star, John Krasinski, with the help of his cast (Margo Martindale, Richard Jenkins, Sharlto Copely, Anna Kendrick and Charlie Day) manage to make The Hollars so earnest, it's hard not to like.
Krasinski plays John Hollar, a New York City wanna-be graphic novelist. When he gets word that his mother (Martindale) is ill, he heads back to his hometown and finds things haven't changed much since he left. His family's as dysfunctional as ever, his high school rival has married his ex-girlfriend who still has a thing for him and his brother has gone off the deep end by spying on his ex-wife. And to add to that, his girlfriend (Kendrick) back in New York is pregnant.
John Hollar is definitely in Krasinski's actor wheelhouse and he's great, perhaps that's why he choose to direct himself here. I'd imagine it's easier to direct yourself with a character type that you're familiar with. The real star of the film though is Martindale. She's the family patriarch, the rock of the family. When they find out she's sick, both brothers (Krasinski, Copley) and their father (the always terrific Jenkins) have to find a way to stand on their own. Martindale's Sally helps guide them to that place. Most of her scenes are from a hospital bed where she's radiating calm, outwardly at least.
The one cringy moment is when the family starts to sing in unison to Sally. You see it happening, you hear it happening and you're begging for it not to go there but it does. Thankfully, that once scene doesn't overshadow the tender moments of Martindale.