Let's be clear: most celebrities don't want to be bothered when they're, say, eating in a restaurant.  I mean, you can't really blame them for that — there's a time and place for autographs and publicity, and then there's trying to finish your sandwich.  Of course, there are many exceptions — there are celebrities that don't even want to be bothered when doing anything in public, and there are some celebrities who… well, will go to extremes to accommodate your wacky requests.
Tom Hanks, who by all accounts is a genuinely nice guy, falls in the latter category.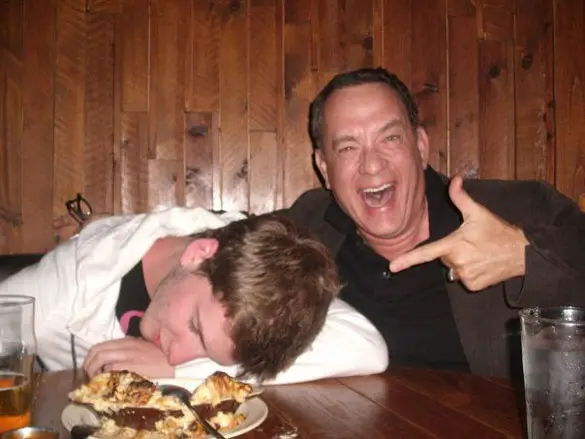 We know this because on Reddit, the anything-goes forum on the Internet, a post appeared titled "My friend met Tom Hanks, stole his glasses, and pretended to be wasted."  Thankfully the poster had photos, because that's really all the description the poster offered about this monumental moment in fan interaction. 
Hopefully Mr. Hanks got his glasses back after the wacky photo session was over.  However, I am sure Hanks will now have to get used to people approaching him pretending to be drunk and trying to swipe his specs.
via Uproxx.com/ Reddit