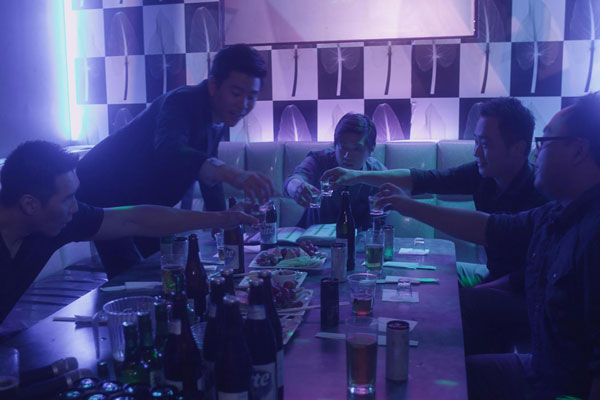 The director and stars of the hit web series, Ktown Cowboys, premiered their new feature film (of the same name) at this years SXSW. The film is a totally different story than the webseries but brings back all of your favorite actors and adds a couple of fresh faces into the mix.
They call the film a "bro-mantic dramedy" and it follows a group of hard-partying friends who are having a hard time becoming adults. I sat down with director Daniel "DPD" Park, writer Danny Cho and cast members Sunn Wee, Bobby Choy, Peter Jae, Shane Yoon and Daniel Dae Kim to talk about their original idea for the web series, the challenges of moving from the web to a feature film and how Daniel Dae Kim got involved.
This was a web-series. When you first started this, was there first any inclination in the back of your mind that he would eventually turn this into a film?
Daniel "DPD" Park: No, we just dug right into it. All we did was we knew we had a story we wanted to tell. We had no film background or anything. Never thought about it really but we knew we wanted to tell the story. And we're just like, "What are we going to do with it? Who's going to see it? I don't know, let's just throw it up onto YouTube." That was our thinking. It got out there and then afterwards an opportunity for a film came through.
I saw you guys had a kickstarter. Obviously it was successful.
Daniel "DPD" Park: Yeah, we started the kickstarter when it was something else. It was more of a web-based movie and we got the support that we were looking for but then after that is when we decided to go bigger and make a full feature film out of it.
Daniel, how did you get involved in this?
Daniel Dae Kim: I was a fan of the webseries. I watched it and I know bunch of these guys from around the way and I saw that what they were trying to do and that were trying to make a movie out of it and I respected their ambition and their drive and, "I said how can I hope you guys?" Because it's always been important to me to kind of help other Asian Americans. And not just Asian Americans, but young filmmakers and young actors because, you know, people talk about this notion of community all the time but a lot of time it's just talk. And for me, I just wanted to actually contribute in some way to the next generation of filmmaking. Especially because a subject matter like this one, I wanted to be a part of it.
Is there any sort of challenge from bringing this from the web to a feature film?
Peter Jae: Yeah, Bobby lives in Korea now. I mean there's definitely technical things that were totally different. The challenge that I talked about the most was that production happened four years after the fact. So people's personalities, their physical locations were different. So we had to get everyone back together and in the groove again. I think on a technical level that was maybe most challenging thing for me.
But at the same time we all wore different hats. We had to pull from a lot of resources and I think that was a challenging part of this film also. When we did the web series, everything was so nonchalant. We would just call up all our friends and say, Oh yeah, at midnight come over here, we have drinks. Just be extras for us. It'll be like two or three hours." This time around we were like, "Uh, can you come at six in the morning and chill with us for 12 hours? Oh you have work? I forgot you're a regular person."
Sunn Wee: I think it was pressure too. For the web series, if people liked it or not, we were like "whatever." But for this one, there's business behind it. What if we make a film that's going nowhere and people put in money for this? I'm going to look like an asshole for doing this. So the pressure was there but I think we did all right. We're here.
As actors, is there any difference for you guys?
Danny Cho: I think for me personally, when we shot the web series we had so much more room to play since it was a lot more informal. When we were filming the actual movie, it's a little bit more tight and on schedule. There's a lot of stuff we have to get through and I think the first couple days it felt kind of off but then we're working with all her friends so it just became pretty comfortable after that.
Bobby Choy: For me it was incredibly nerve-racking because I'm not an actor. I knew how big of production this was going to be and I didn't want to ruin it for anyone by messing up my lines and stuff. So I worked really hard. I got an acting coach. I worked really hard to measure had everything down pat. Of course I still messed up. But yeah, I did have a kind of pressure with the web series becomes just us doing it.
Daniel, this has got to be fun for you, I would think? Do you like the fast-paced shooting you did here coming from Hawaii 5-0?
Daniel Dae Kim: it's a different world, and yet I gotta say, it's really kind of refreshing. It kind of reminds me of when I was back in college. We're all sleeping in the same house. We're all sleeping on floors, we're all sharing rooms, fighting for bathroom space. And then I go from here to a premiere of a Hollywood movie in a couple of days so it's definitely two worlds. This lot of fun for me. I hope these guys know this but it's definitely not about me, it's not about my ego, I just want to be here to support them.