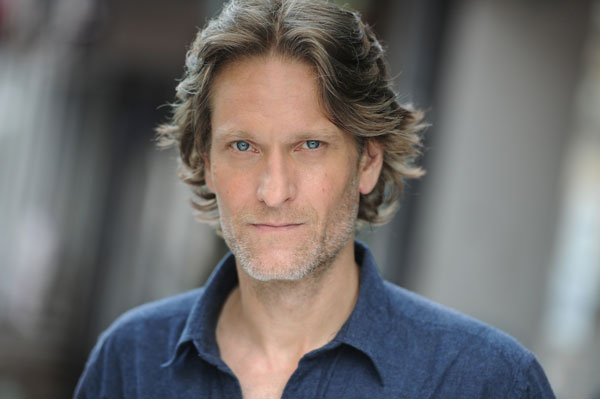 "Once we get into the performances, I try to put the writer in a box and just live in the moment." – Actor and Writer Michael Laurence on his new play, Hamlet in Bed
Rattlestick Playwrights Theater's 2015/2016 season starts tonight with the opening of Michael Laurence's Hamlet in Bed, about an adopted neurotic actor (Laurence) who's obsessed with finding his real mother and playing the famous "Gloomy Dane." When he meets Anna (Annette O'Toole), a former actress turned barfly, he starts to believe he's found his mother and lures her into playing the role of the Queen in his "noirish production" of Hamlet.
The show, directed by Lisa Peterson, is being called a "twisty and darkly comic story about mothers and sons" and runs at the Rattlestick though October 25th.
I recently talked to Michael about the show, why he started writing his own plays, how being an actor helped his writing and more!
Get tickets for 'Hamlet in Bed' here!
Hey Michael, how is your day?
Michael Laurence: Pretty good. We're still in previews, so I'm down at the theater. I'll go into rehearsal after I'm finished talking with you. But it's going great, you know? We're heading into our ninth preview? We lock the show tomorrow and going to press previews next week and then we officially open on the 17th.
Is it crunch time right now? When exactly does crunch time happen?
Michael Laurence: It's basically the next week. Just because it's always stressful and press comes in and everything. It's exciting but you know the drill.
I've never been in this kind of high-pressure situation. Because you're the writer, when does the pressure come off of you?
Michael Laurence: Once the show is locked then that means we're sort of done making any script changes and were done fiddling with the production. So we're not changing anymore light cues or music cues… those are the kind of things that we make little adjustments to all the way through previews.
So, when the script gets locked and the production gets a locked, which will happen tomorrow, that's when, as the writer, the pressure is off in a way because that's the show. That's the show that were going to live with.
As an actor, you know, the pressure is never really off. But once it actually officially opens and you're out of those press previews and you're settled into your run, it becomes a gentler animal.
When you act in a play that you've written, are you able to just purely be an actor in it? I'd imagine if that were me and I had written it, I'd always want to be editing it in some way. Like three weeks into the run, I would want to change a line or something. Are you ever truly not a writer?
Michael Laurence: No, I haven't been. Not so far at least. I'm looking forward to the day where I can just simply be an actor. I shouldn't say simply, it's never simple, right?
But yes, exactly like you just said, it's a kind of schizophrenia. Once we get into the performances, I try to put the writer in a box and just live in the moment. There's only one other actor in the piece, so it's just her and me. Certainly during rehearsals, I'm constantly editing in my mind and scanning the text for cuts or edits etc. Luckily in the case of this play, the character that I'm playing is a version of myself. It's got a sort of meta conceit or fictional autobiography kind of convention to it so in a way, that thing about being the writer and the actor is sort of folded into the concept of the play, if you know what I mean. It kind of is my character in a way, so that helps.
A few years ago I wrote a play called Krapp 39. It was a solo piece and it was about an actor at the end of his 30s and crossing over into that imaginary threshold of youth to early middle age. And he was taking an audit of his life, sort of looking backwards at his life so far. And it was based on the Samuel Beckett play, Krapp's Last Tape. And so in that play, just like in this play, I was playing an actor who is sort of shadowboxing with famous text. I sort of developed a narrative voice with that piece in a performance style that I've further developed for this play, Hamlet in Bed. The whole thing about playing a version of myself is something that I'm getting used to.
Playing a version of yourself is much harder than playing a full on character, isn't it?
Michael Laurence: Right, it is in a way. Although the thing about biography and fact is fact is always fiction, right? No matter how much it's related to some abstract truth in your life, as soon as you frame it in a script or put it in front of an audience, it changes and becomes something else that isn't really truth with a capital T. It's something else, something more shimmery and slippery and hopefully more interesting.
But you're totally right. It requires a kind of vulnerability from an actor because you can't just sort of disappear into another person, into a character.
It's you and Annette O'Toole in the play, who I think is awesome. How does she come on board? Is there a casting director?
Michael Laurence: Well, there actually is a casting director. The play is happening at the Rattlestick Playwrights Theater, which is just a wonderful, storied off-Broadway theater in the West Village in New York. They are famous for producing really edgy, new work. Adam Rapp has premiered several plays here. Craig Wright. Lucy Thurber.
Didn't Jesse Eisenberg do a play there?
Michael Laurence: He did. Actually Jesse Eisenberg wrote the show that he also starred in for Rattlestick.
So, because they have such an amazing reputation for producing strong new work, we were able to attract an actress of the caliber of Annette O'Toole. I just adore her, she's fantastic. She's fearless, she's so easy to work with and she brings just a real passion to the project. And she has a set of finely honed instincts and she just gets the world of this play and this character and it's just a joy to work with her.
There was a casting director but in the case of Annette, Lisa Peterson, the director, had worked with her on a production at the Arena Stage in Washington DC a few years ago. Coincidentally, that's how I also met Lisa working on a play at Arena Stage. A different time but at the same place as Annette.
So, Lisa had worked with both of us and her feeling was that we would work really well together and that would we would have a strong chemistry. Of course, you never know until you actually are in the rehearsal room working on the material but her hunch proved to be right. I think Annette and I have a great and playful chemistry, so it's really cool.
Is this the fourth or fifth play that you've written?
Michael Laurence: It is my fourth or fifth play, yeah. I wrote a few plays back in the 90s or early 2000's that sort of had productions in basement theaters and loft theaters. Off off-Broadway.
Really I see this as, like I was saying before, almost a continuation of the work that I began with Krapp 39 in 2009 and 2010. That was a play where we were very lucky in that we had a long run off-Broadway and then I was so grateful because we were nominated for drama desk award. And that led to a production in London and then we took it to Dublin. That was an experience that raised the bar for me as a playwright.
While I was performing that production in London is when I started working on the script for Hamlet in Bed.
Why exactly did you start writing plays? In the past couple months, I've gotten this bug where I actually want to write one myself. How did you start doing it?
Michael Laurence: You know, I've always enjoyed writing. I've always written short stories and poems. I've written a couple of screenplays and like we just talked about a handful of plays. It's just always something that I had taken a real deep satisfaction in.
It's sort of the difference between being a creative artist as a writer and an interpretive artist as an actor. And for me I love to do both.
My heroes have always been playwright/performers like Sam Shepard, Spalding Gray, Wallace Shawn, Eric Bogosian. Some of those guys came of age artistically in the 1960s, 70s and into the 80s when I was just a kid. I grew up in Cincinnati Ohio and I was reading these guys' plays and then when I got to New York, I was seeing everything I could. And they just set the template for me. I was like, "That's what I want to do. I want to be a writer who is performing in the plays that I write."
And I feel like I'm sort of coming into the whole playwriting thing through the side door because I've made my living as an actor for a number of years now and the playwriting side of things is just now catching up.
Do you think it's easier to start writing plays after you been an acting for so long?
Michael Laurence: It's helpful in the sense that I've become a part of the theater community in New York as an actor. For example, I built a relationship with the Rattlestick Theater by acting in a couple of plays that they've produced and now they're producing my place as a writer. So I'm not sure that would've ever happened if I hadn't forged that relationship first as an actor.
Ditto with my relationship with Lisa Peterson. She's one of the preeminent directors of new plays in America and I feel so lucky to be working with her on this play that I've written. But again that relationship happened because I knew her first as an actor. I was first putting the finishing touches on the first reading draft of Hamlet in Bed, I emailed her and I said, "Would you want to meet for coffee? I've got a project I want to talk to you about."
And then in terms of the actual writing itself, I like to believe that maybe I have a sense of how language works in an actor's mouth, you know? I can make sense of things from the inside. Maybe over the years as an actor, I sort of honed their skills and now those skills are helpful to me when I'm working on a script. That said, a lot of the time I will throw psychology out the window and just write from a purely musical point of view. I know that's maybe more of a complicated answer.
Breaking into the playwriting world is a hard thing to do. There are such wonderful writers in New York City. I personally think that were living in a, maybe we'll see, but a new golden age for playwriting. There's just so much wonderful boundary breaking work that's happening off-Broadway these days, so I'm proud to be part of the community. I am hoping for a kind of legitimacy within it is a playwright. But if I make my way through the door as an actor/performer or playwright/performer, so be it. I'll take it. I'm very grateful for the chance.
What is your writing process like? Do you have the whole story outlined before you write?
Michael Laurence: For me, it rarely starts with the whole story in mind. Sometimes it's just a single image. Sometimes it's just a snippet from a dream. Sometimes it's just a little patch of dialogue. And the story pieces itself together pretty slowly over time actually.
For this particular piece, I had an image of Annette's character… She plays sort of a barfly who's a former actress who hasn't been on the stage for 40 years and my character lures her into this noirish production of Hamlet because he thinks that she might be his birth mother. He's an adoptee and he's sort of obsessed with finding his birth mother. So, I had this image of this lost soul being 86'd from a bar. And that's what was what set the story for me.
I'd also been doing a lot of research on search and reunion stories involving adoptees and birthparents. And there was a story related to my own family, I don't even know… it may be apocryphal or maybe something that was told to me once or maybe something that I just dreamed, I'm no longer even sure of the veracity of it. But the image was of a little boy who'd been adopted and he was a musician, a violinist. And his birth mother was also a musician, she was a pianist. And they meet for an hour only and it's the only time he ever meets his mother and they play piece of Shubert together. And there's something about that image of forging a relationship through arts that was very powerful for me.
And so Hamlet in Bed sort of trades on that as well and in my case, the medium is theater.
The play itself is about the transformative power of theater and the transformative redemptive power of love and families.
I'm sure you've done a million auditions. What's the worst audition you've ever been on?
Michael Laurence: I don't know if it's the worst ever, I mean I've certainly walked out of a few audition rooms with pie on my face… but recently I auditioned for a television series where I decided to improvise a shouted line at the end of the audition. The casting director had already turned off the camera and was writing something in her notes when I did the line and I literally scared her out of her chair because I startled her so bad. And I thought, "Oh, my gosh, what have I done?"
It was very awkward but that's the life of an actor.