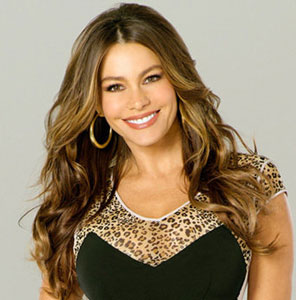 Forbes released their annual highest-earning actresses on television list and the name at the top isn't very surprising. Sofia Vergara is in the No. 1 position for the second year in a row.
The Celebrity 100 list is in its 14th year and it ranks women based on salary from their series, residuals, endorsements as well as advertising work. The magazine uses the time period of June 2012 through June 2013 to measure the rankings.
In addition to her work on Modern Family, Vergara has managed to utilize her popularity to her advantage. She has a clothing line at Kmart and endorsement deals for Diet Pepsi, Rooms To Go and Synthroid, a thyroid medication. In the Latino market, she also has Comcast, laundry detergent, and a State Farm insurance commercial running.
While the ABC sitcom star's income is from multiple sources, one of the women sharing the No. 2 position has an even more impressive story. Her earnings come from a single source. Mariska Hargitay of Law & Order: Special Victims Unit earned $11 million from Season 14 and 319 SVU episodes that are in syndication. The series boasts over 50 million viewers each week from the original and syndicated episodes.
Also splitting the No. 2 spot with Hargitay is The Big Bang Theory's Kaley Cuoco. Her estimated salary of $300,000 per episode along with deals with Toyota and Priceline jumped her from No. 11 last year to her new position this year.
The rest of the top 10 top-earning women all tied for fourth place earning $10 million. The Kardashians, Ellen Pompeo, Bethenny Frankel and Tina Fey shared that spot together.
For anyone crying that reality TV stars are on that list, Forbes' Meghan Casserly simply wrote, "Yes, it's true, we consider reality TV acting—don't you?"
It's hard to argue with that statement, so let's celebrate the fact that top 20 women on the list earned a combined total of $183 million last year.