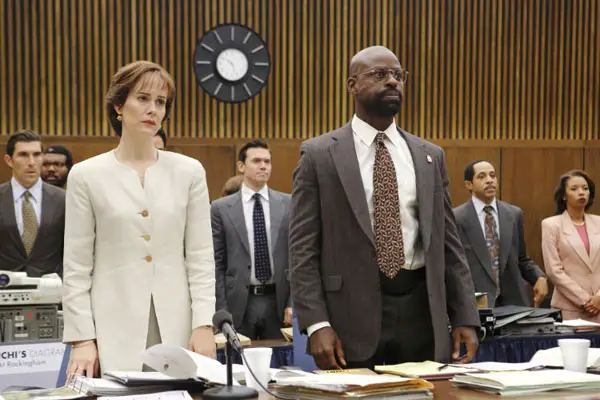 While Cuba Gooding Jr. is killing it (pun intended) on FX's The People V. OJ Simpson, audiences have been drawn to Sterling K. Brown's Christopher Darden. Brown's believability may have something to do with his theatre background and he recently talked with Forbes about his stage worke and landing the role on one of the most-talked about shows of 2016.
Brown, who went to NYU, started to do work in regional theatre after graduating. "I was in Berkeley and Princeton and Minneapolis and all over the country doing wonderful plays for the local audiences. Then I tried to transition into doing more theater in New York City, and also a bit more film and television. Then after being out of school for about five years, I wound up moving to Los Angeles just to explore whatever opportunities were available on the West Coast."
Brown went on to say that he'd never leave the theater behind. "It's a more physical and athletic activity. He added that he also loved the "excitement and the response of being in front of a live audience. But, I will not hesitate to say being in front of a camera pays the bills, and it allows me to have my family and not have to worry quite so much."
When Brown first found out he'd be auditioning to play the prosecutor, he said he instantly went to YouTube to study the man he was about to play. "After watching that footage, I went into the bathroom and cut all of my hair off. And I looked at myself and thought, 'OK, this could possibly work.'" He remembers giving a good audition but with all the big names attached – Sarah Paulson, John Travolta, Courtney B. Vance and Nathan Lane – he never thought he'd get the part.
The actor didn't hear a peep until two and a half months later. "I got called back in to re-audition for the producers. I had to fly from Albuquerque because I was there working on Whiskey Tango Foxtrot at the time. I was the only person they brought back. I read for the producers Brad Simpson and Nina Jacobson. They had me do a couple of different scenes. Later that evening, they called me as I was taking my son to basketball practice and they told me I had booked the job."
Sterling K. Brown can be seen on The People vs. OJ Simpson Tuesday nights on FX at 10pm.